After a poor-seeing show with Saturn then things coming good with some tough doubles I went on to get good views of Neptune & Uranus. That turn around got me thinking of Mars which is currently just ahead of sunrise and getting high enough for the D-K I reckoned; (disk = Uranus @ 3.7"); so got to bed till 3a.m. – firstly for those winter/spring stars then to set the finder on Mars.
I knew I would have to get the planet in a dark enough sky for the 50mm finder: similar to early morning efforts with Mercury. Thus tracking it till at least a sliver of the D-K aperture catches it. This turned out to be some five hours before the meridian. Only 4º altitude then, just clear of the fence for the finder, and of course pretty poor when first seen in the main scope; but soon there was an encouraging definable disk, and gradually there was detail flitting in and out...... by ~06h. UT (alt 7º).
Another 20 minutes and high enough for the ADC to more effectively deal with much of the dispersion. I resisted using red filters (planning no-filter rendering) as I was getting a sense of some yellowish brightness over Chryse seemingly washing out much of southern M. Acidalium: its distinctive shape being pretty elusive. At the same time the broad Nilokeras/Lunae Lacus/Ganges shading standing out quite boldly.
Hopefully the rendering will speak for other features and the general impressions.
Much diversion of late – productive observing but not had much opportunity for posting here recently and a fair number of good nights to report on when I can........One (Oct 1/2) nearly perfect, had me up till daybreak after being up since 4 a.m. previous day. A fair number of sketches from that and will maybe put a selection into one thread.
Dave.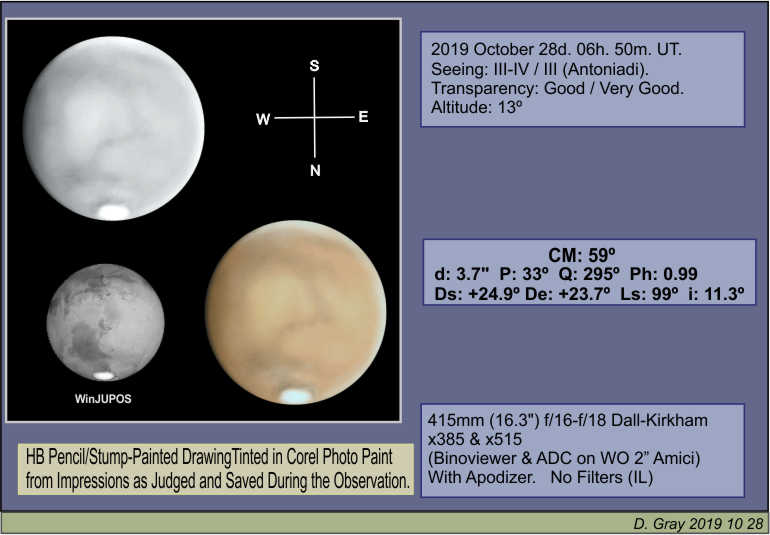 Edited by David Gray, 29 October 2019 - 04:19 AM.