[Maybe better in 'Mounts?']
I have two refractors: A very nice C80ED f/7.5, and a Celestron Omni XLT 102 ED (which is actually a 100mm, f/9). They are good scopes for me, both bought used. Both have upgraded dual speed focusers.
Here is the 100mm...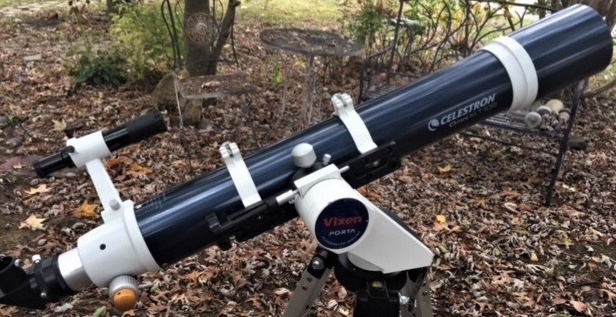 Right now, the only mount I have is the Vixen Porta II, sitting on a common aluminum channel tripod. The 80mm rides it nicely. The 100mm has some annoying moment arm sway making focusing difficult.
Eventually I may build a pipe mount, but that is on hold for right now. In any event I don't want something too heavy to carry outside.
Also, when out, I have to move among the trees.
So my question is... Has anyone used the hanging chain method to successfully lessen moment arm sway?
I've read about it but just looking for some feedback.
Im not going to wrap the chain around the tube, so I guess some kind of soft attachment might work. If I recall the chain attaches near the front of the scope?
As far as the chain. Do you use the heavy gauge chain? Or is medium okay? And about how long would be good? I was thinking 3 ft? At the home store, they have to cut the stuff and I don't want to come home with too much.
Any info or experience is welcomed. Not an ideal solution, but likely the least expensive, which is numero uno at this time.
Thank you!