Date: Friday 8th November 2019. 0300-0600am
Scope: Borg 107FL f5.6 (focal length 600mm).
Night Vision: PVS-14 with Photonis 4g INTENS.
Eyepieces: Plossl 55mm (f2.6 x11).
Filters: Chroma 5nm Ha filter.
Moon: 0%
Introduction.
It's now been over a week since the "never ending" clear skies went away. With the full moon approaching I saw an opportunity to maybe get out for a few early morning hours after the moon had set.
The skies were clearing when I went to bed and the Devils Orb was already giving the appearance of daylight outside.
I had a short restless sleep with the occasional peek to see if the moon was still lighting the edges of my bedroom curtains.
Once I was satisfied that it had gone and having taken a few minutes to "motivate myself", I slipped out from the warm bed and headed downstairs to get dressed.
It was pretty windy outside which meant the roll-off shed would not be used tonight so I prepared the Borg107 for a trip outside onto the patio.
It took me 20 minutes to get ready before I relayed my kit outside.
I quickly performed a 2-star alignment for the Skywatcher AZGTi mount and headed to M45 to test it out… The Pleiades were all bright and sparkly in my fov set against a lovely black background ("looks good" I thought to myself).
I had no real plan for the session, so I decided to look at the brightest areas of Orion plus some of the larger Sharpless from my "Best of Sharpless".
I added the Night Vision PVS-14 to the TeleVue 55mm Plossl and added the Chroma 5nm Ha narrowband filter to the front of my 2" star diagonal.
NGC2244/Rosette.
Where else to start but my favorite nebula – The Rosette! It appeared bright and mid-sized (at x11 magnification). Thin bright lanes seemed to trace out the "petals of a flower". Multi-toned fainter nebula filled in the gaps, then with the dark black central hole and cluster to complete the view. I lingered a while before slewing down and into three spread-out nebula patches (sh2-280, 282 & 284). They are all different which makes them more appealing. The first is a circular patch with two small dark circular shapes inside (sh2-280), then we have an oblong shaped patch (sh2-282), finally on the other side of a bright star we arrive at the circular patch sh2-284.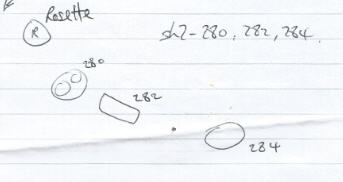 NGC2264/Cone/Fox-Fur nebula.
Now for the first "surprise bonus" of the night. I centered on NGC2264 and when I looked in the eyepiece I found the fov filled with faint multi-textured nebula. I located the MINUTE Cone nebula, it was very tiny but a clear black triangle nevertheless! I traced the parent Fox Fur into what looked like a "comma" shape. This comma shape was sitting above a right angled long thick lane. Below this I found a mid-sized curved lane and followed this down and left to arrive back at the Rosette.
I decided to make a sketch of the large area just covered as the individual segments were so clear to see (and you do the daftest things when only half awake!)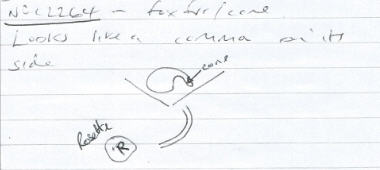 I found the Xmas tree in the tail (of the comma) slightly brighter. I noted a dark lane running through the comma tail section.
IC405 Flaming star/IC410/sh2-230
I have had recent success with the sh2-230 undefined area around IC410/405 with the big dob. So it was time to see what the 4" aperture of the Borg could tease out of this region. This is a beautiful detailed large section that really comes out well under low x11 magnification. IC405 and IC410 are immediately obvious. The magnificence (intricate detail) of the upper head section is not so striking at this low magnification but you then notice that the Flame is larger than expected and in fact has an extra patch that seems to extend the tail section further out. IC410 sits by the side and has the appearance of "a mask", I see two black eyes cutting into the small bright shape. Above IC410 there are two tiny patches (Spider and Fly) then above them I see a large faint circular patch (unknown). To the left of this and above the Flame is a double curved lane which has several brighter sections visible within it (sh2-230) which I have seen before. But my eye is drawn further left and up where there appears to be a huge circular edge (unknown).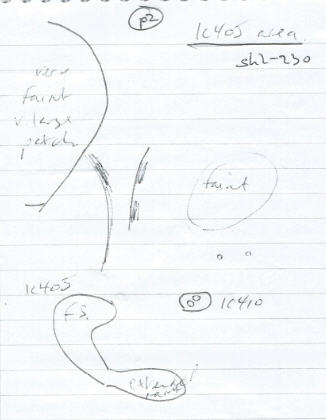 NGC1499 California.
While looking at Sky Safari, I decide to see NGC1499 (another nebula where the big dob has been working hard recently). Wow, this area is great at low magnification. The "traditional" section of the California is the brightest and easily seen in its entirety but it's the large extension section to the right (that must be at least the same length again!). Then while examining the tail and crown sections at the left end, I begin to notice a huge structure that seems to sit behind the California nebula. I sketch out what I can see. This background section is vertical where the California appears horizontal. It is faint and has curves under the California where it seems to meet a large faint patch (that has 6 bright stars inside), I add these to the sketch…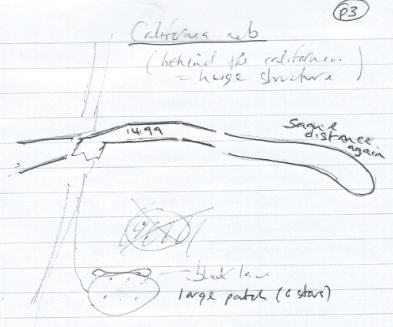 IC2177 Seagull nebula.
Looking for big and bright nebula, I choose to see the Seagull next… The traditional "head and shoulders" fills the fov. I slew around and trace out a large additional structure leaving the "top shoulder" and travelling right and then down to finish at an extended "foot" patch just above the Duck nebula. I sketch out the Seagull and then hunt around for any patches (I know there are plenty of small Sharpless around here). I find two small patches at the end of an extended "leg" section (I thought that one of these was Thor's Helmet but after slewing to that later then I think I am wrong so I need to revisit and sort out what they are?)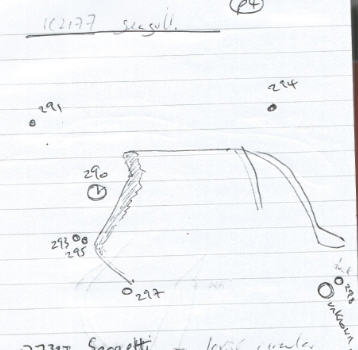 Sh2-240 Spagetti.
I pick a large nebula from the best of Sharpless, sh2-240 next. It appears as a large circular faint shape. There is a central vertical zig-zag section and I see several hortizontal-ish black lanes travelling through the patch (as I get my eye in). There is definitely lots to see here and its deserving of its place in the "best of Sharpless".
M42/M43/NGC1973, Orion and the Running Man.
Okay, I've waited long enough! I slew to NGC1973. The only thing you see at the eyepiece initially is M42 of course! It's so bright and wonderfully detailed. At this low magnification it reminds me of a "bird in flight" with bended wings. The "fish head" is the brightest section but I am fond of the blackness that spews from the fish head and seems to spread out and around M43 next door, it is black as black can be. M43 has an intricate shape inside its almost complete circular patch, but I speed by to seek out the Running man. Tonight the bright patch is clear as day and as I look on a black shape within the bright patch comes and goes, it's not a "pair of legs" but it's a black patch within nevertheless.
Flame/IC434/Horsehead.
I slew directly up from M42 and a bright patch comes into view, over to the right a bit and there is IC434 bright and thick. The horsehead is tiny but clearly visible and having a decent shape tonight. However, I am completely drawn to the long nebula bend section to the left which runs down from the Flame too. I do not remember noticing this section before but it's been a year since Orion was here and I cannot remember everything that I see!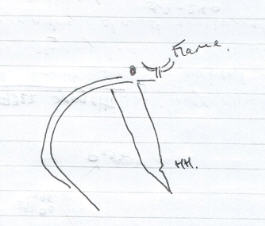 I now manually slew up from the Flame to find a thick horizontal nebula lane running across the full fov. I follow it right and then down and back under until I find myself back at the Orion nebula (M42). I guess this is Barnards Loop. I had earlier searched for it to the left of Alnitak (as that's where it is with the dob but this "star diagonal" used in refractors regularly sends me the wrong way when I try to retrace the big dob steps!
Angel Fish – Huge and bright. Way too big to see the fish at x11 magnification. I do my best to tease out some features but it is just too huge!
NGC2174/Monkey's head.
Instead, I move onto the Monkeys Head. It appears small and bright but as usual I see "Mickey Mouse" with the refractor and star diagonal turning things around. I slew around and pick out two patches above, one is sh2-247 the other is unknown. I slew below and find the wonderful tiny triple nebula sh2-254,255 & 257 (another Best of Sharpless member).

NGC2395 Medusa – A small shimmering crescent moon shape is observed.
M1 Crab – A small shimmering patch. With time at the eyepiece I see a bright circle around the outside and the occasional jumping line details within but cannot hold the interior in my view.
NGC2359 Thor – A small faintish semi-circle.
IC443/IC444, sh2-249 – The triplet of nebulae all fit into the fov and are a lovely sight that takes a good while to look around and take it all in. The Jelly fish (IC443) has lovely "tenticles" section that breaks backwards RHS. There is a small bright patch directly in front of IC443 (IC444) and then behind this the large oblong nebula structure sh2-249. I see the fine black lanes within sh2-249 next to Tejat Posterior (a nearby bright star).
Sh2-265 – Picking another large Sharpless object, I headed for SAO 112667. I found a small bright patch (sh2-263) then above that a huge bright nebula that after slewing around, reminded me of a "walkie-talkie". It had a pointed section at the upper LHS. And an interesting double lane at the lower sections.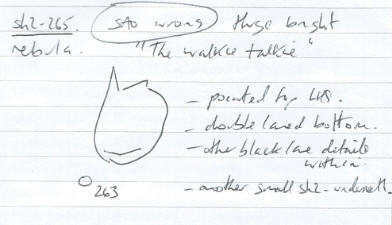 Sh2-260 – Next I picked sh2-260 (which I have only ever seen with the big dob). I slewed to SAO 112142 where I discovered a very large faint nebula shape. It was larger than the fov and seemed to appear as a "thin teardrop". I cannot find any images of this so at the moment it is unknown to me.
Epilogue.
I noticed the sky brightening from around 0550hrs so I headed for a last look at the Rosette and Flaming Star regions before deciding to pack up at 0600hrs.
I am glad that I made the effort to get up as I felt like I got "more than I imagined" from my session (which sent me back to bed happy, if a little cold – at least I had my hot water bottle to bring my feet back to life).
I think that I have concluded that I need to get the widefield Borg 107FL out more frequently, when it's cold then the dob in the shed is a much more appealing thought.
- I have added an unexpected 7 entries to the "Ag1-xx" nebula catalog for the unknown/extra patches that I will need to come back and confirm… (up to 97 entries now).
I also now have some lingering memories to help me through the barren spell of the full moon (out here in the dark countryside, the full moon is a real killer!).
Hope you enjoyed the read and my sketches!
Alan
Edited by alanjgreen, 09 November 2019 - 03:40 AM.