Folks:
I don't have the ability to automatically dither. I'm doing the best I can with an unguided skyguider pro, which is pretty limiting. A few weeks ago when I was working on my image of M31, I collected about 2 hours of lights (limited by clouds) through my duo-band filter, Canon T3i, and AT60ED scope. I was integrating the Ha data using the "Ha-OIII extract Ha" debayer algorithm in APP, and getting some really bad walking noise throughout the image.
The next night was clear, so I got 9 additional hours of lights, but because of my manual set-up I had a slightly different rotation of the camera for the second set of data. This data set also showed significant walking noise, although much reduced compared to the 2-hour data set. So just for grins, I registered and integrated the two data sets together, and the result was a wonderfully smooth background compared to the individual integrated data sets.
This got me to thinking, could I do a low-budget version of "dithering" by changing the camera rotation a few times throughout the night? Last night was clear again, but with a full moon, so I did a crude test. I took 30 frames of M33 (wow is it hard to find with a nearly full moon, a duo-band filter, and being -15C outside!), rotated the camera a few degrees, and then let the camera run the rest of the night. Today, I ran the "extract HA" algorithm again and integrated the first 30 frames, the next 30 frames with the camera slightly rotated, the 60 consecutive frames after rotating the camera, and then the 60 frames with the initial 30 frames and the second set of 30 frames with the two camera rotated.
Here's a crop from the first integration of the 30 frames prior to rotating the camera. Please forgive the poor image quality, but there's quite a bit of noise in the background.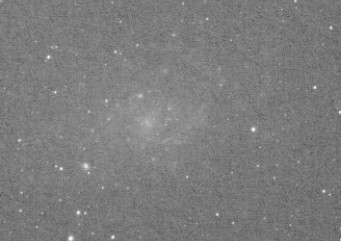 Second set of frames after rotating the camera: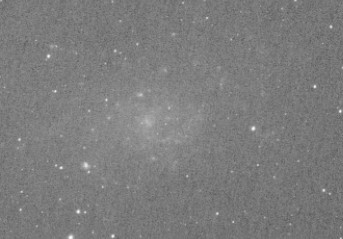 Here's 60 frames after rotating the camera: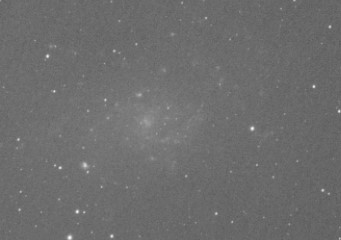 Finally, here are the 60 frames including the 30 before and 30 after rotating the camera: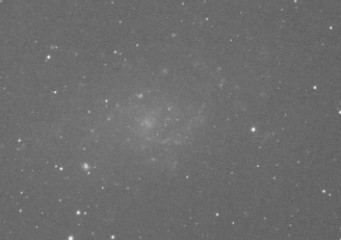 To my eye, the 60 frames after rotating the camera still show some pattern noise across the image. But the combined image before and after, on my screen, looks much smoother and more uniform.
Just wanted to get the group's thoughts, for a simple set-up like mine, is this a reasonable approach to reduce some of the pattern noise that could otherwise be resolved with dithering? I find it much easier to use the camera rotator to change the rotation slightly than to try to make a small adjustment in declination with the SGP, but wanted to see if I was missing something (I probably am) obvious.
Thanks in advance!