Hi all,
I thought that it might be of interest to you that I do an article/ thread on the above title.
Over the past ten years of operating my mini tower I've enjoyed the use of both Alt and AZ clutches and since I purchased my AZ pro I have missed not having the azimuth clutch so set out to see what I could do about it.
Upon pulling down the mount I discovered that there was nothing I could do to the present/stock AZ axle/base plate and ring gear to install a clutch so the decision was made to build a complete new axle/base plate and ring gear along with the clutch parts. This was obviously going to be a time consuming and exacting and expensive project but ahead I progressed. At this point I decided to get some help from a good friend (Peter) of mine who is very much like me in that he will have a crack at anything.. he has a workshop like mine with a lathe/mill and other machinery so between us we had the gear to do this job.
First thing to do was some drawings and lots of measurements. These sizes had to be exactly the same as the stock axle so as the complete system could slot straight into the mount casting in place of the stock unit, just tighten up the top nut and then it's finished. I can say we achieved that and its running like a charm and I must say it feels good to have my AZ clutch back again.
To be able to add a clutch to this we had to make the triangular base and axle in two parts not like the stock unit which is a one piece casting. Having the axle by itself enabled me to machine a flange which is required for the ring gear to have something to push against (part of the clutch system). Then the ring gear can be installed along with the teflon washers and this assembly then fits into the triangular base with a snug fit and 3 M6 grub screws hold it together,
The photos will show all this ... both the axle and base have three slots machined to enable the three pronged item to slide in , tighten the knob which pushes the prongs into the ring gears and in turn that finishes hard against the flange I mentioned before and hey presto we have a working clutch.
The ring gear was made at Peter's workshop as he has a different mill than mine and all the gear to make this item... in saying that though we had to import the correct cutter to cut the slots / teeth... this had to be machined exactly like the stock unit so as it would mate correctly with the stock worm gear.. everything worked out fine and I couldn't be happier. It was a long project but well worth it. Not sure why iOptron chose to not have an AZ clutch in this mount. My only guess is to do with cost as this would have pushed the price up to a different bracket that they would be wanting to sell this mount. I have noticed though that some of the other manufacturers going the same way also in leaving out this clutch.
After talking to iOptron about the project I was going to do they supplied me with complete pull down article of the mount so thanks very much to them . The article was very helpful.
Also many thanks to my friend Peter for his help throughout this project.
If anyone has any positive and or negative comments about the making and the finish of this project feel free to speak up.
cheers
Graham
This first photo shows the stock AZ system where the ring gear is fastened to the base by three screws thereby resulting in a fixed assembly. More photos will follow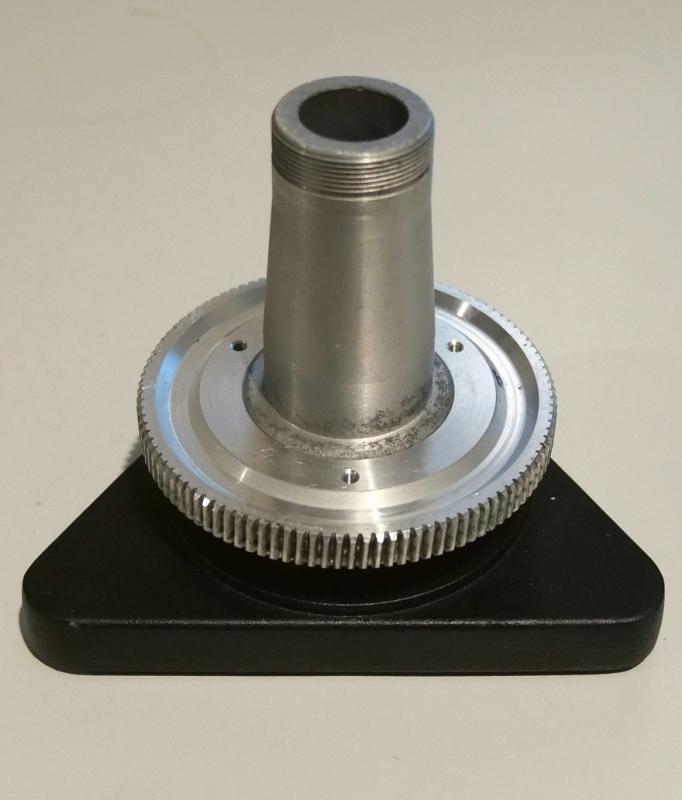 Edited by biz, 13 November 2019 - 06:33 PM.