TPO or Third Planet Optics (OPT house brand) D=152mm F=916mm f/6 newtonian ota, rings/dovetail, 199usd shipped.
Included are ota, 6x30 straight thru finder, 2in single speed Crayford, rings/dovetail. Steel tube weight = ~14 lbs, tube length = ~34in. Marketed as visual/photography.
Nice affordable newtonian ota. The single speed Crayford is hefty and functional. Needs a 2in/2in extension tube for visual focus in my use, one of my Borg 1.25in helical/insert should work for fine focus adjustment, instead of the extension.. Tube weights as much as my OOUK aluminum f/8 ota. Might be sturdy enough for some AP.
Add at least a EQ3 or appropriate alt/az (~300usd), and for a total of about 500usd you have a nice entry level visual set up. If you have a 900-1200mm fl, you already have a set of eps.
A couple of images....
On a Vixen Porta II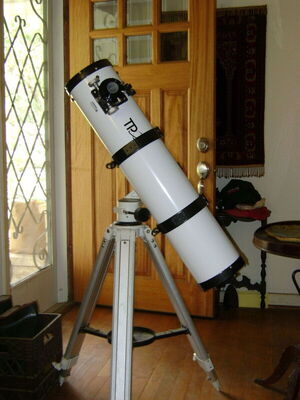 Some jitters, usable with the slomos.
On a Astrozap GEM (manual lxd75)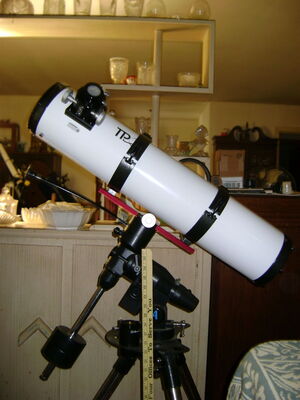 Nice and sturdy.
The best 4.5in f/8 is a 6in f/6.....
Have not had a chance for astro viewing, of course....
Good viewing,
Dave
Edited by dmgriff, 17 November 2019 - 05:37 PM.