Greetings!
I am wondering if anyone would be willing to download and try their hand at processing my raw data? I am very interested in a more experienced opinion. I am interested in finding out how my post processing techniques could improve by comparing my process with someone else. Using the same data would make the comparison more meaningful. If this request is too off the wall then just let me know.
The data is from my first ever fully successful DSO imaging session. By "success" I mean all of the bits necessary to collect a series of stackable images actually worked. No kidding, it was a monumental event for me. The target was M33. The seeing was good. I live in a bortle class 4 area. My equipment is pretty low-budget: Apertura 6" F/4 newt; Celestron CG-5 mount; Nikon D5300; SvBony 50mm guide scope; ASI120MC-S guide cam; APT for image acquisition; SharpCap for polar alignment. I used DSS to stack (I stacked all 24 images) and StarTools for post processing. I didn't take any dark, flat or bias images. This is my end result: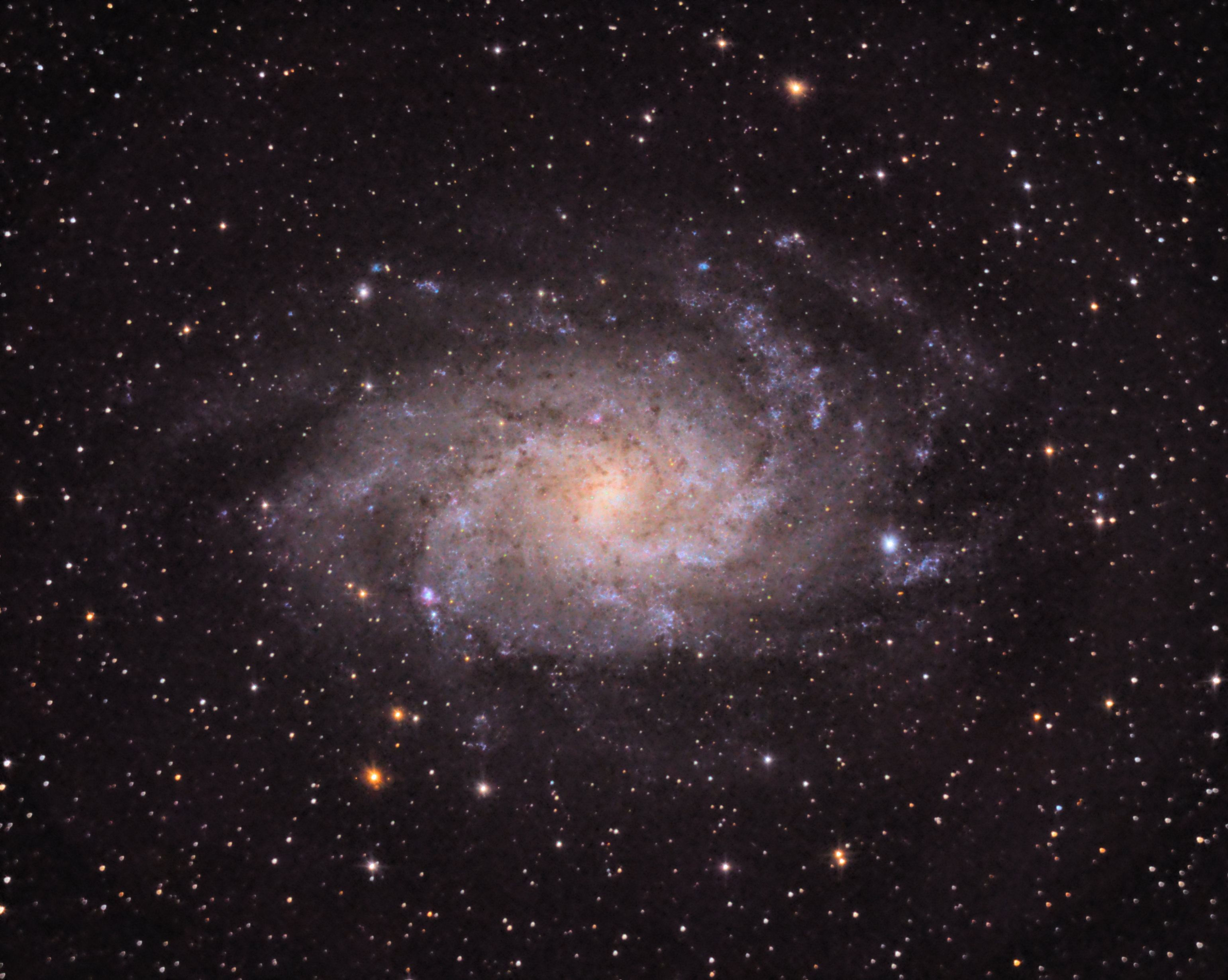 My post processing skills are very weak. I pretty much cut my teeth in StarTools on this image. I am anticipating being able to improve my process, but post processing seems to be an art unto itself.
I'm pretty happy with the result being my first successful data collection. I know I need a coma corrector. I have one on the way. I cropped the final image to get rid of the distortion. I found out later that StarTools has a feature that may be able to correct the distorted stars. The images are portrait in orientation. Don't know if that matters. Next time I think I'll orient the camera differently.
The source images are 24 .NEF files straight from the camera. I noticed the first 18 or so have a bit of a glow to them. It seems to surround the target. The glow made it's way through the stacking. I may have been able to correct the glow had I included darks or flats. I'm not sure. I do know I struggled with the glow through processing and couldn't figure out how to git rid of it. It mainly shows on the left side of the finished image. I'd be interested in what may have caused the glow. Seems strange it faded out near the end of the session.
If anyone is interested in granting me the time and valued opinion, I'd be most grateful. The file is about 550MB in size.
Here's the link to the images: M33_11042019.zip (Onedrive)
Clear skies!