Very sad.

- When Tony Flanders was with Sky and Telescope, he did reviews of entry level telescopes and one of the ones he recommended was the 70 mm Orion Observer. The article says anything less that 3 inches is only useful for a few bright objects. Tony with his TeleVue Ranger probably disagrees..
My first telescope was an old long focal 60 mm refractor with no finder and one eyepiece. I paid $5 For it at a garage sale. The mount was missing major pieces so I ended up lashing it to $5 at a garage sale department store photo tripod. It was a pretty sorry rig but raising three boys on a limited budget and just beginning a new career, that's all I could afford.
In the equipment section of Peterson's Guide to the Stars and Planets, there was a single line that said that a 60 mm refractor was a worthwhile instrument for observing the night sky.
That gave me confidence that I had something useful. I just wanted to go out and look around and see what I could see. Early one morning out on the Arizona desert I stumbled upon a faint bit of nebulosity and journey had begun.. that was the spark the lit the fire that turned into a passion.
I often wonder what would have happened if the Peterson Guide had said that a 60 mm refractor was not a worthwhile instrument.
- I think Jerry's intentions are good and he does offer some sound advice for someone with a sufficient budget. And too, the inexpensive 60mm and 70mm refractors one buys today and not the Japanese built 60mm's 50 years ago like my Asahi-Pentax's and the scopes that the rest of you have posted. Some beautiful photos.
Even so, I have purchased some modern entry level refractors just to see what today's scopes offer. In 2005, I purchased a TeleStar by Meade 60mm AZ. It was a 60mm F/11.7 on the typical flimsy alt-az mount, it did have 1.25 inch eyepieces. I paid $50 for it and wrote a review for Rod Mollise's Skywatch E-magazine called "Fifty Dollars at Walmart" that was later published in Amateur Astronomy.
https://skywatch.bra.../swspring05.pdf
I think it's worth a read and shows what can be done with a $50 scope.
Some years later Walmart had a black Friday special on the Celestron Powerseeker 70 AZ for $40. I bought one and put it through it's paces. I later added some wooden legs made from 2x2s and some hardware, about $6 total. This scope was more capable than the Meade, still suffered the same issues, flaky tripod being the major issue.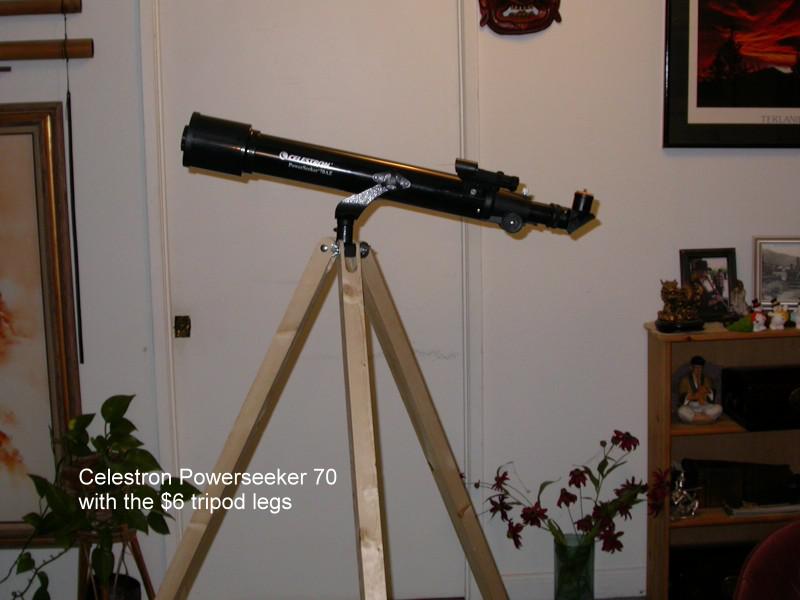 - I really dislike suggesting that a telescope can be a "Hobby Killer" and that there are telescopes that are worse than no telescope. I'd have to agree that the $20 scopes I have purchased at Big Lots with a plastic singlet lens qualifies but otherwise, too many of us started with these very basic telescopes.
I figured out a long time ago that what makes or breaks this hobby is not the telescope but the observer. It takes someone very special, someone with persistence, curiosity, someone willing to put up with numerous hardships, (cold, wind, long sleepless nights, mosquitoes, long drives to cloudy skies) all for a glimpse of some faint object or detail that is better seen on a computer screen in a warm room...
If that first view of M42 in my worn out 60mm refractor had not thrilled me, had not touched me to my very core, I would not be out there 30 years later searching out tiny faint objects that make that first glimpse look like a street light.
Telescopes do not kill the hobby. It's something of a cliche but Galileo would have been thrilled to have a look through either of these entry level scopes. There are people out there enjoying scopes like these.. making meaningful observations, learning.. sharing..
That's my two cents..
Jon