Dates: 28th & 29th November 2019.
Scopes: 20" f3.6 Lukehurst Dob & Borg 107FL f5.6 (focal length 600mm).
Night Vision: PVS-14 with Photonis 4g INTENS.
Eyepieces: Plossl 55mm (Dob f2 x38, Borg f2.6 x11).
Filters: Chroma 5nm Ha filter.
Introduction.
Last time outside was the 8th November and I had a great night with the Borg 107FL and Night Vision identifying many new "areas of interest".
See my report and sketches here: https://www.cloudyni...s-night-vision/
But then we have had three weeks of clouds!
Anyway, last week we got three clear(ish) nights outside so I decided to use the Borg 107FL as a spotting scope to identify further areas to then check out with the Big Dob. It seems that it is easy to look straight through faint nebula and not see the bigger picture with the greater magnification proving a disadvantage with the dobsonian.
This report will cover a mix of two sessions (Night one – Borg 107FL) and (Night Two – 20" dobsonian). I will detail my wide field observations and sketch and then follow up with the detailed greater magnification/aperture view of the exact same area accompanied by a photo from Sky Safari with locations marked.
Area of interest 1 – Heart & Soul nebula region.
Starting with my wide field observations, here is a sketch I made of this area of the sky.
The big thing I found was a rectangular structure that is attached to the side of the Heart nebula. It had some brighter areas within it and a smaller parallel line inside it. There was an obvious "loop" coming from the "mole head" part of the Heart and beyond the loop I saw a small patch and a longer snake patch too. I have marked some of the smaller Sharpless (sh) that I saw on the sketch as well.
After quite a long time examining the Heart, I slewed to the Soul (foetus) next door, where some nice intricate interior detail and brighter mouth and chin areas were observed together with a couple of small Sharpless just of the sides were also noted.
Now, onto the Dob observations from the following night. Here is a Sky Safari view…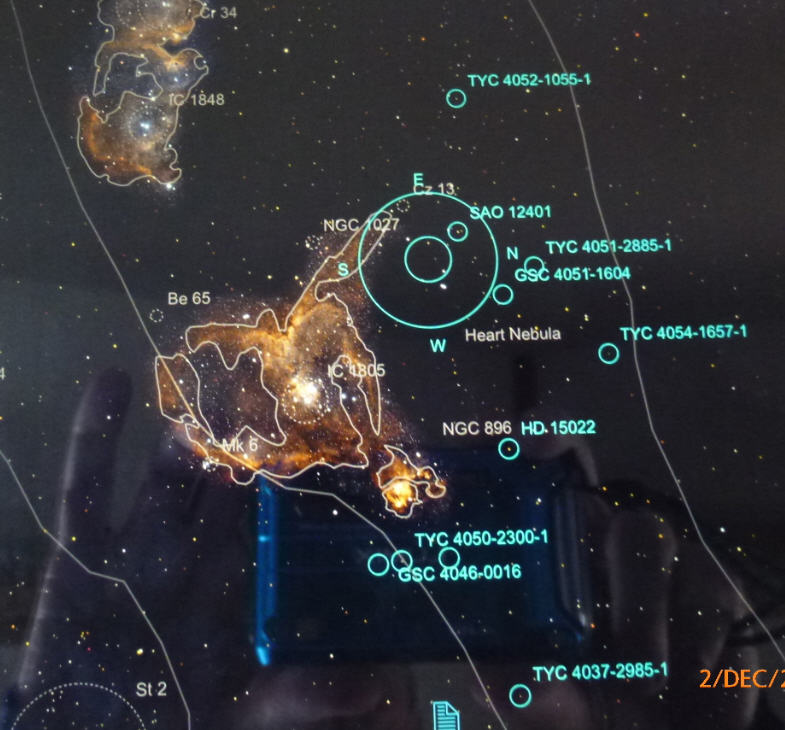 GSC 4051-1604 – large faintish patch fills fov. Stars have cleared black areas inside. Double star in a black patch stands out.
TYC 4054-1657-1 - marks the right angled corner of faint box extension to heart nebula.
HD 15022 – Triangular shaped patch fills fov. Some small black areas inside.
GSC 4046-0016 – a "line" section. Two brighter patches stand-out.
TYC 4050-2042-1 – return section of "loop". Exiting & returning to the "mole head".
TYC 4056-1055-1 – Long curving corner section of faint nebula lane coming from the Heart.
TYC 4051-2885-1 – Junction of two curved loops (curved X shape), brighter central area with black patch & stars inside.
TYC 4059-0328-1 – very faint large section of reflection neb. Plenty of black helps the nebula to stand out.
GSC 4058-0834 – "house" shaped star cluster set in a large nebula patch.
TYC 4052-1055-1 – small nebula patch (part of a long thick curvy lane that winds along here).
SAO 012401 – very tiny, bright nebula patch.
HD 20798 – small circular patch next to a star (the last in a line of stars). Black circular area too.
TYC 4049-0064-1 – double lane of nebula. One side brighter with some brighter patches too.
Area of interest 2 – Flaming Star region.
It was time to revisit the Flaming star region. I familiarized myself with a look at my sketch from last time out then started to note and sketch further nebula details seen at the eyepiece. I could see a sketch what looked like loops of nebula coming from the main bright blobs (sketched as dashed lines). There was a clear right angled corner piece above IC417. I then hit the multi-patched area of sh2-233/235 which looked great. On the other side there was a sweeping curved section that ended in a double patch (maybe sh2-227). I could see a small bright blob below that (guessed as NGC1778 but may be something else sh2-228?). Finally, I noted a small patch hanging off the side of the Flaming star itself. Here is my sketch from 28th November.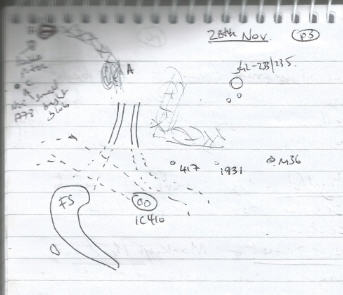 Now, onto my 20" dob observations from the following night…

TYC 2393-1581-1 – oblong patch to LHS of tail of Flaming star.
HD 243596 – patch between IC410 & Spider.
HD 36834 – thick lane of nebula brighter section connects to HD35345.
TYC2415-0413-1 – large patch connected to HD35345.
HD 36212 – large nebula patch with many stars.
SAO 058274 – large nebula patch under the pinwheel cluster.
More work needed here...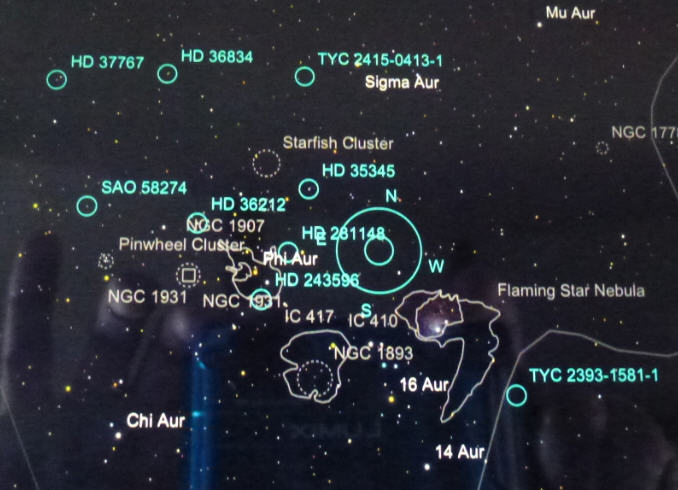 Area of interest 3 – Fox Fur & Rosette region.
Onto the Fox Fur & Rosette, which is proving to be a great area to explore with a small wide field scope. The Fox Fur is rising rapidly up the list of "great nebulas of the night sky"! Once again, I started by checking my sketch from last time out and then worked to see and sketch further details… Here is what I ended with…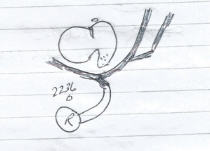 It's really hard to find a decent image of this area wide field. Everyone seems obsessed capturing the tiny Cone and misses out on this vast lush areas greatness! Search for "Fox Fur Nebula Rosette" and you can find some – it's well worth it.
This time I noted some of the black detail inside the thick "comma" shape and also a smaller detached patch above.
I cannot reach this region from my shed so there is no dob confirmation text.
Area of interest 4 – IC434 & Horsehead region.
Next up was the expansive region that contains IC434 and the horsehead. Last time out I noted a long extension to the left hand side and down parallel to IC434. This time I was lucky enough to see even more. IC434 was a complete rectangle of nebula surrounding Sigma Orionis in its centre. With more time I began to notice a separate nebula lane running up the left side of this. It was fainter and ended with a curvy section around Alnilam at the top. The bottom end was right angled as shown below in my sketch…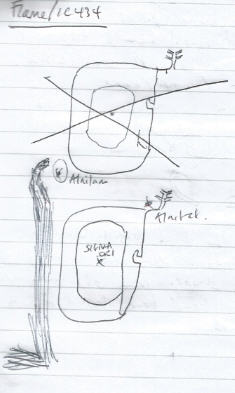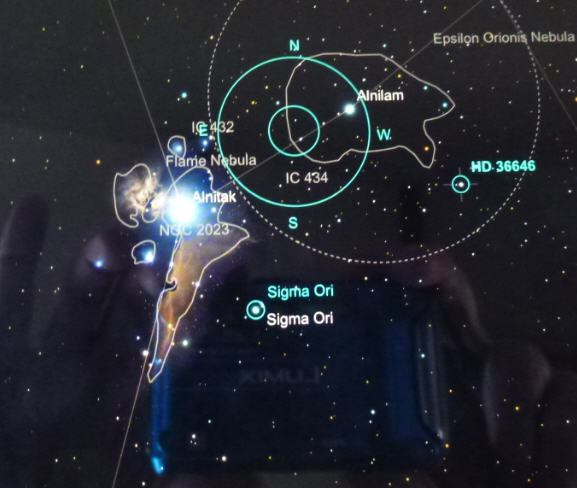 I cannot reach this region from my shed so there is no dob confirmation text.
Finish with the search for some Comets.
I was outside again on the 30th November where I managed a couple of hours observing before fog descended. The highlight was that I bagged four comets as follows:

Equipment: 20" dob, 27mm Panoptic (x77 magnification), PVS-14 Night Vision.
C/260P McNaught – A small fuzzy blob next to a star. No core to speak of.

C/114P Wiseman-Skiff – (found WEST of where Sky Safari says it is so beware!) It appeared brighter than C/260P. A small fuzzy patch with wide brighter core (but not a bright "dot" core).

C/2018 N2 (ASSASN) – Easy. Bright dot core and halo surrounds. Next to 2 stars LHS.

C/2017 T2 (PANSTARRS) – Very Easy. Bright dot core and dust halo. Small tail heads NW.
Epilogue
The above approach proved a success, identifying potential areas for detailed searching with the dob in advance really helped me to focus where I looked with the dob and helped me to linger longer at a location waiting for nebula to pop out at me.
I will be relocating the dob to the back of the shed for the next new moon so Orion and the Rosette can be reached. Then I can firm up some more exact locations thanks to the push-to connection to Sky Safari that the dob has (via Nexus wifi unit).
Hope this proved useful.
Clear Skies,
Alan
Edited by alanjgreen, 02 December 2019 - 05:23 PM.