I was inspired by a recent image by Pete xl who posted his image of this object in the CCD forum. It has a nice fliamentary structure, but it has not been studied too much and we don't know if it is an SNR (Super Nova Remnant) or not. Nevertheless, I decided to see if I can get anything on this very dim object with my DSLR (Ha-= modded Nikon D5300).
Sure enough, this proved to be real tough target for a DSLR. I had to try many combinations in processing, but felt that Ha only gave the better image in B&W than any of the color versions I could come up with. I did this over two nights I separated the Ha only channel and here is the combined results of 2 nights worth of effort :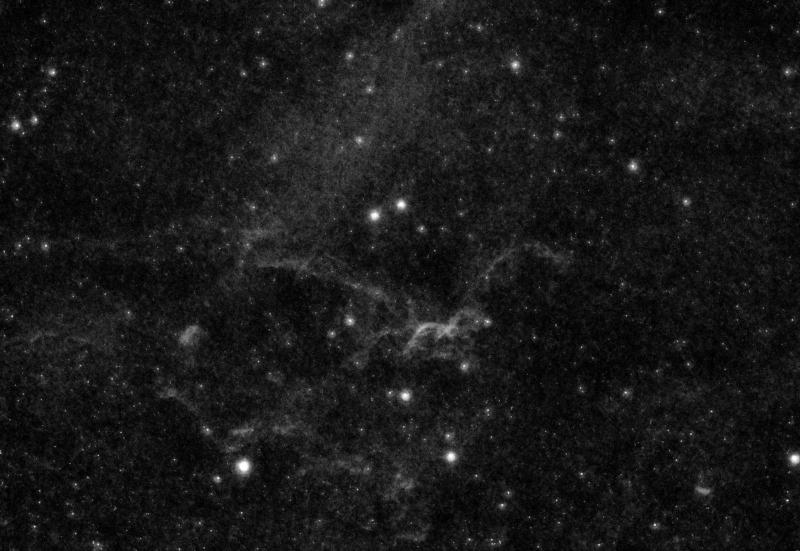 I present only the Ha mono extracted result because there is hardly anything in the OIII. Having the OIII channel gave me too many gradients which were hard to remove as there was a 1/4 moon that was quite bright in the sky. This is a very rich star field in Cygnus, so I had to a do a number of rounds of star shrinking to make the nebula stand out a little better. The capture details are : SV Access 80mm OTA with a 0.8x focal reducer + Ha modded Nikon D5300 camera with a dual band NB filter - ISO 1600, f5.6, 5.8 hours (346 minutes) of integration time. The image is still noisy, but it captured both Sh2-114 (Flying Dragon nebula) as well as the nearby Sh2-113. Hope you like it ..... Anil
Edited by AKHalea, 03 December 2019 - 10:19 AM.