A couple questions.
How did you mount your guide scope and which one did you go with? Pictures would be awesome.
Can you tell me the center to center hole distance for the two holes on the top of the rings of the AT72EDii? The main rings look like they might have some small amount of adjustment fore/aft adjustability (a few mm's maybe).
What threads are in the holes?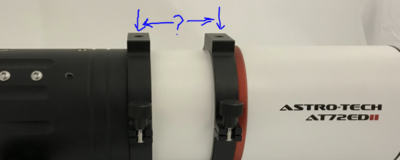 My new AT72EDii is on back order (just a week or two) and I'm trying to assemble all the pieces so everything comes in at once. I'm thinking WO 50mm Uniguide or the regular WO 50mm guide scope and a set of rings and some sort of Vixen saddle/clamp mounted to the top of the main rings. Hence question 2 above.
Edited by psuaero, 04 December 2019 - 08:42 AM.