Hi Guys,
I would like to ask for help deciding which scope I should buy. To better understand my situation and what exactly is that I am looking for, I thought I would provide a little background information:
In a nutshell, I would like to buy a refractor telescope mostly for wide field deep sky astrophotography. However, somewhat counter-intuitively, I would like said scope to be small and portable. The reason for this is that the mount I plan to buy for my new scope will be a star tracker (a Sky-Watcher Star Adventurer Pro to be exact) with a maximum payload capacity of 5 kgs (although I would like to be below that limit just to be safe).
Now, most of you will say, "but the mount is the most important part, why so small?" and believe me, I understand. However, as much as I would like one, a larger equatorial mount is just not an option at the moment. I live in a tiny apartment in the middle of the city; so, going out to image always involves a car ride and dragging all my equipment back and forth from the third floor (with no elevator). Therefore, portability and ease of use is not only a convenience for me but more often than not is the deciding factor whether or not I can go out to image at all. But, while the sky tracker is not ideal, I believe that with practice and a little patience (and very precise polar alignment), I can capture satisfying images. My camera of choice is a Nikon D5600 DSLR with a weight of 0.47 kg.
Based on the above criteria, I have narrowed down my choices to the three scopes below (all wide field which is more forgiving of tracking errors) and would like to ask for your expert opinions to help me pick the one that you think would serve me the best. Keep in mind, however, that I am not well versed in different scope manufacturers; so, if you know of a refractor that is not on my list but you believe would serve me well, please let me know. I am open to suggestions! Anyway, here are the scopes I believe would be a good fit for me:
William Optics ZenithStar 61 APO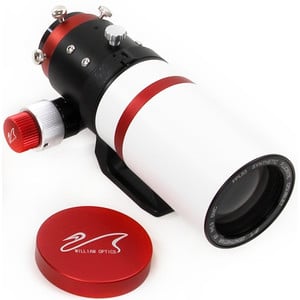 https://www.firstlig...wo_zs61_rd.html
According to reviews, the Z61 has first-class design and build quality with its FPL53 glass. The imaging train is all screwed in and the added Bahtinov mask is a very nice bonus. Furthermore, with a weight of just 1.45 kg (plus 0.27 for the dedicated field flattener) it is light enough for the mount to easily handle (with my DSLR, the whole payload would be around 2.5 kilos, half of the mount's capacity). However, I am a little bit afraid of the 61mm aperture, that it may be a bit too small for astrophotography. Also, at f5.9, it is not the quickest of scopes.
The whole package with the flattener and T-ring would cost me: 710 Euros (including shipping), which is a little pricey for this size but, if I am correct, it would more than make up for it in quality.
TS Optics Photoline 60/360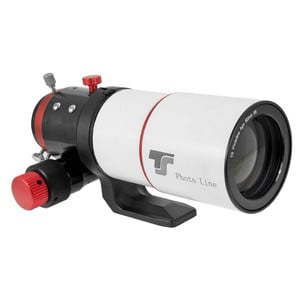 https://www.astrosho...red-ota/p,56055
This is actually not a contender, I just thought it was funny that it is the exact same scope as the ZenithStar 61, minus the Bahtinov mask. It costs about the same too; although, its field flattener looks considerably more flimsy. I guess a lot of scopes do come from the same place...

Sky-Watcher Evostar 72ED PRO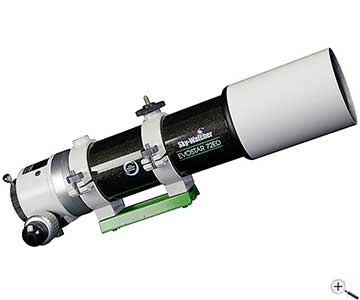 https://www.firstlig...ds-pro-ota.html
With 1.96 kilos, this scope is a little bigger than the Z61, but I do like the larger aperture. And with its dedicated x.85 reducer/flattener, the scope will have the same wide field of view as the Z61 but with a better f4.9 speed. Sound pretty good, but I have watched/read a few reviews of this scope, and honestly, it looks to have considerably lesser build quality than the William Optics ones. The imaging train is pressure mounted, for example, and the fact that the company is not disclosing the glass it is using for the optics is more than worrisome. It also seems to have some plastic parts which is never a good sign.
With the field flattener and T-ring, it would cost me 580 Euros (including shipping), which is considerably cheaper than the other two (however, if I also buy a Bahtinov mask and try to replace the imaging train with an all-screwed in option, it would probably run me closer to the Z61's price).
William Optics ZenithStar 73 APO

https://www.firstlig...-73-ii-apo.html
My last contender has all the pros and cons of the Z61 but with a larger aperture and focal length, which I believe makes it better suited for astrophotography (although its field of view is slightly smaller). This, however, comes with a price, both literally and figuratively. With 2.83 kgs, this scope is the largest of the three, placing my payload right at the edge of what I would be comfortable putting on the mount (2.83 + 0.32 + 0.47 = 3,62 kilos), which would make this purchase a little risky for me (although I have read testimonial of people using this scope with my mount of choice, and they haven't reported any problems). It also cost a lot more than the other two.
With the field flattener and T-ring, it would run me 891 Euros (with shipping).
Do you have any experience imaging with these scope? Which one would you recommend. I am curious to read your thoughts. Thanks!
Edited by Rince, 06 December 2019 - 03:56 AM.