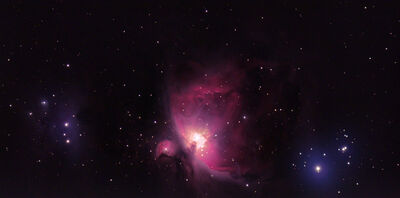 I was out playing at a local spot last night that has a view all the way down to the horizon. I like this spot because there isn't any light generation to the east. I love living close enough to the coast to have access to a spot like this.
My original intention was was to go after the Pleiades. I took an hour+ worth of exposures and was considering packing up, but I once I saw Orion rising above the horizon I had to hang around a bit longer.
I was not expecting much as there were a lot of thin high altitude clouds moving around. After the first shot, I knew I needed to hang around and play with this. I was amazed at how vivid the red was in that shot. And I was hooked. On some of the learlier shots I had seen a bit of elongation in the stars, so I was going to a higher ISO and shorter exposures. I was concerned how this would affect my shots, but I do not see anything that gives me pause in the final.
I was using a 80mm Skywatsher pro refractor, with my Ha modified T3i. That gives me a focal length of about 960mm, I think. Then, I stacked this in Sequater, then processed in Photoshop. I can see where the highlights are a bit blown out in the center. Thats something to correct next time.