Chemically peculiar stars, as their name suggests, have peculiar chemical abundances and this is reflected in their spectra. They come in two basic flavors: those with magnetic fields, Ap stars, and those without magnetic fields Am stars. The anomalies seen in Am stars are more or less constant but the anomalies seen with Ap stars have strict periodic variability with the rotation of the stars.
In stellar spectra, metals often are weak absorptions which are difficult to observe with low resolution spectroscopy. In his wonderful book "Spectral Atlas for Amateur Astronomers", Richard Walker jumps straight to a high resolution Echelle spectrograph for his chapter on chemically peculiar stars. There certainly are targets and phenomena that are not accessible to study with low resolution spectroscopy. I kind of assumed chemically peculiar stars were such a target.
Then I read this interesting article about using Kepler photometry and LAMOST spectroscopy to study chemically peculiar stars.
The Kepler view of magnetic chemically peculiar stars
The LAMOST telescope is a wonderful device to take spectra of thousands of objects simultaneously.
The LAMOST low resolution mode used in the study was around R~1500 which isn't too far from my Alpy at R~1100. So I decided to take a peak as I was passing through the constellation of Aries.
56 Arietis (also known as SX Ari, the prototype of a kind of variable star, SX Ari stars) is a magnetic chemically peculiar star of the silicon group, meaning it has less He I and more Si II than a "normal" B type star. This is actually completely obvious in my spectrum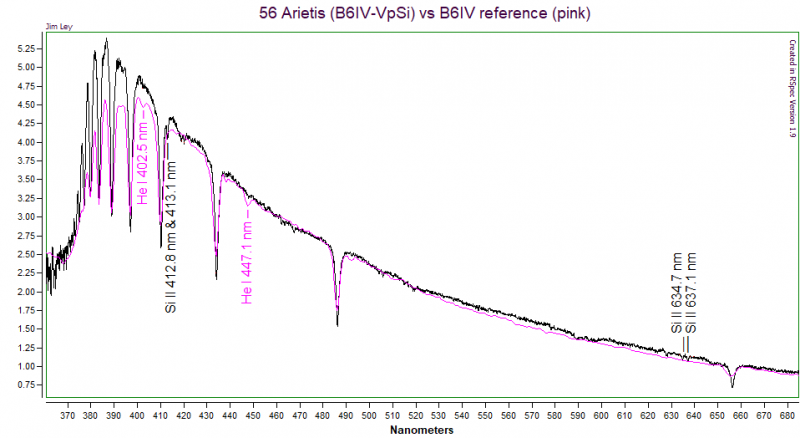 There are lots of other metals that are visible but it might be difficult to identify, let alone quantify many of these.
This paper on the rotational period of 56 Ari used photometry and the spectral lines for Si II at 634.7 nm to determine the rotational period of the star to be about 0.728 days. They had years of data for this line, so that's what they used, but I don't see why I couldn't look for variation in the line (actually a doublet) at 413 nm. It would be neat to see relatively rapid periodic variation in a stellar spectrum.
I will return to this chemically peculiar star and look at a few others...