The data is already somewhat older (Nov 22/23), but it took me a while to test and decide how to combine Hα and the RGB data. This is what I've finally settled to:
Generate standard RGB image with low stretch


run StarNet on it


subtract the starless from the full image, do some color smoothing and deconvolution in LAB space


generate monochrome (medium stretched) Hα image, run StarNet on it


Clean the starless Hα from last star artifacts, then use it as luminosity layer for the (RGB) starless nebula


Again some color/sharpness work on the nebulosity part


Re-combine it with the stars (addition mode)


Stacking done in IDL, all layer/LAB processing in GIMP (and of course StarNet).
Initial data was 120 subs @30s for RGB, 120 @60s for Hα.
A-P Stowaway (old) with ASI1600MM Pro, Astronomik 31mm filters (Deep sky RGB, 6nm Hα) in EFWmini
CEM60EC guided with ASI290MMmini in ZWO OAG
Acquisition software: KStars/EKOS and PHD2
Full size on Astrobin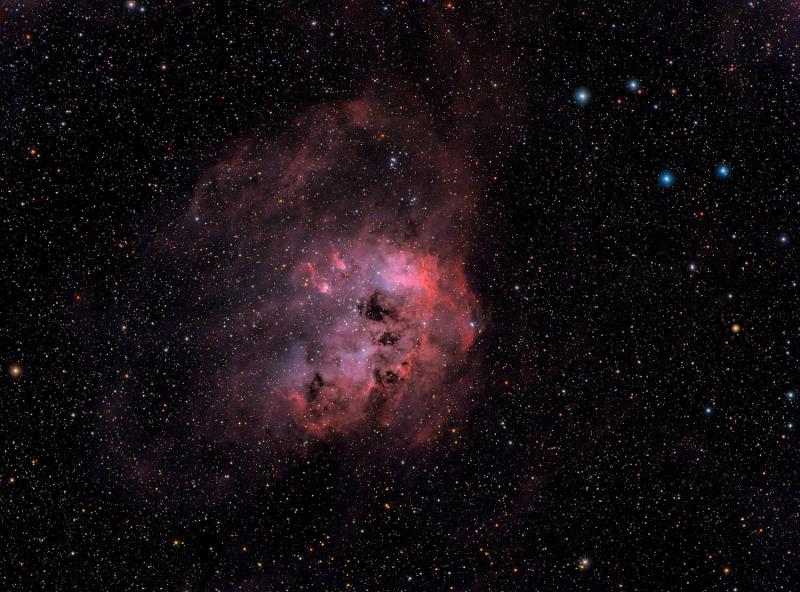 All acquisition and processing done in Linux