After two late season tropical storms, I decided to revisit NGC 1365 to spot those darn spiral arms. I failed. However, looking at Sky Safari, I noticed another interesting galaxy nearby. A quick star hop and I was in for a surprise. I have never seen Fornax A.
But, my gosh! It was very bright and showed some detail almost immediately. The NE SW elongation was immediately visible with a faint glow. Almost right away I began to see hints of some dark lanes, first and most prominent to the west. Later and less prominent to the east. Then, I noticed NGC 1317 further out in the FOV. I was kind of shocked as it appeared to be faint, but pretty large compared to the NGC 1316. It had a small but distinct elongated core, too.
Edit: what I am not sure of is whether those dark lanes are the edge of the halo or the finer dark stuff near the core. I might be pushing it thinking they are the dark lanes near the core, so they are probably the more dark edge to the halo. I did not see any of the more extravagant (and faint) halo structure. (I actually have the same question about the dark stuff I noticed in NGC 1365).
It was best seen at 150x (1.3mm exit pupil). I did not get to stay on it for much longer than 30 minutes due to a huge cloud bank rolling in. Had a descent night otherwise, clear and fairly transparent. But, that was enough.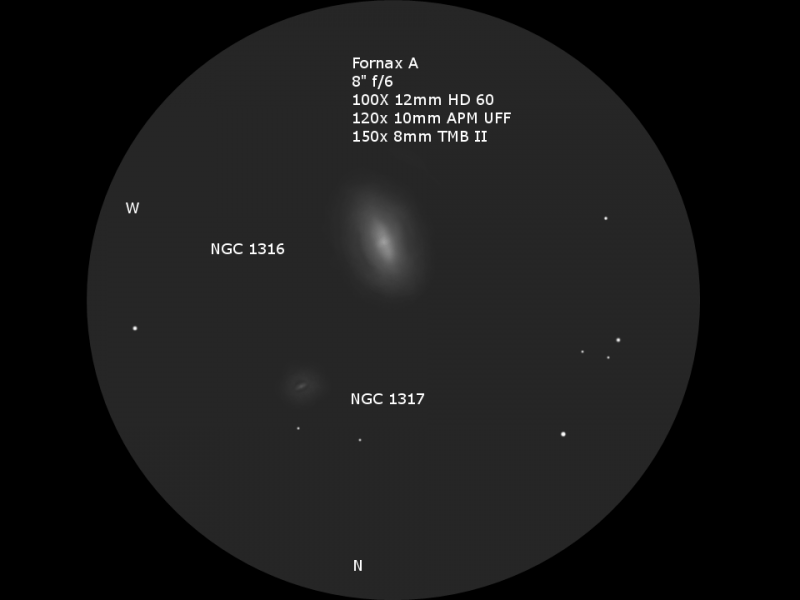 Edited by Asbytec, 28 December 2019 - 10:39 PM.