I used to be deep into astrophotography, back at the end of the film era. Like many, time passes and I drift on to other things. In this case, it was a move out of the high desert and the loss of astrophotography equipment 9 years ago that sort of did it in for me. In the meantime, I kept with photography ... which drifted into early photographic processes. A few years ago I began making photographic dry plates -- the silver gelatin photographic process that preceded film. I make my own emulsion and coat the glass. The plates replicate the look of the 1880s / 1890s.

Recently I combined an old passion with a new -- a dry plate photograph of the moon. I cut and coated a dry plate that would fit into a 35mm camera - a Canon 7nE - and shot this at prime focus of my Vixen VC200L-DG. The exposure was 1/25th of a second.

I thought you might enjoy the result, although this isn't technically film.

A scan of the result. Shot in October from my backyard here in Brookline, NH. This is the same result that astrophotographers of the 1890s would have created.
Makes you wonder how many decades it has been since the last time someone took a picture of the moon on a glass plate negative.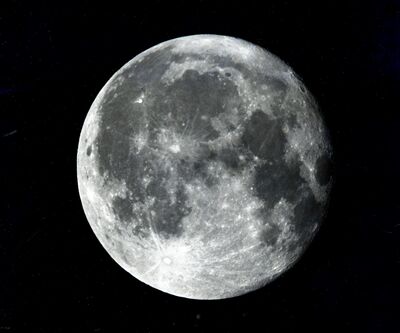 A picture of the plate itself (negative). I prepped this myself, coating it with silver gelatin emulsion (primitive version of what's on black and white film), taking the exposure and then developing it myself.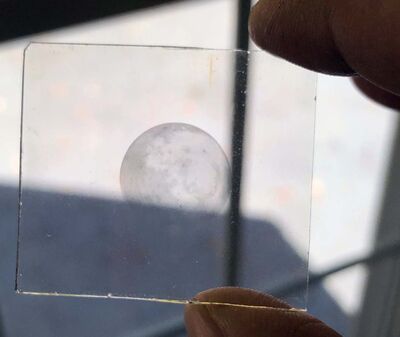 Made an 8x10 print in the darkroom of the moon. This is a picture of the print just after fixing and initial rinse. The 6 1/2" x 8 1/2" outline that you see surrounding the moon is the edge of a glass plate that I laid on the paper when I made the enlargement exposure. I also laid an 8x10 piece of glass over the paper so that I could add the writing.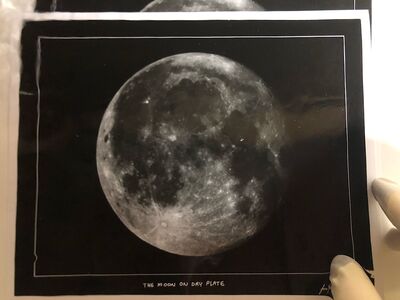 My next plate astrophotography project will be to shoot the Pleiades on 4" x 5" format dry plate, coated with my Orthochromatic ASA 25 speed emulsion..which should be able to pick up the OIII emission nebula just fine.
Regards,
Jason
Edited by Uwe Pilz, 31 December 2019 - 11:30 AM.
promoting