Here's my first image with my new setup. I bought the scope(s) and new camera over the last month and "received" it for Xmas. Last night was the first chance to get out and image on a spectacularly clear night in the north east. Here's my present and also it's first image. I also ditched the Synscan hand controller and switched over to EQMOD/Stellarium for alignment and control so it was really like a whole new experience last night. I couldn't get the PHD2 guiding to work and didn't want to waste such a nice night messing around with the configuration in the COLD so I just went unguided with the new scope.
It's a William Optics Zenithstar 73 (73mm/430mm) with FLAT 73A (1:1 flattener). I also mounted a William Optics 50 guide scope (50mm/200mm) and ZWO ASI120mm-S camera for guiding.
Here's the Pleiades as promised. What do you think?
Image details:
Date: Jan. 1, 2019
Frames: 209x20s ISO800, 30 darks, 36 flats, 40 bias
Total time: 1 hour 9 mins. 40 secs.
Imaging camera: Canon T2i (unmodded)
Telescope: William Optics ZenithStar 73, 430mm, f/5.9, William Optics FLAT73A 1:1 Flattener
Mount: Orion Sirius EQ-G Computerized GoTo Telescope Mount
Software: Backyard EOS, DSS
1.
What are these patterns around the stars? Here's zoom/crop from the image above. They almost look like diffraction patterns but they shouldn't be there with a refractor.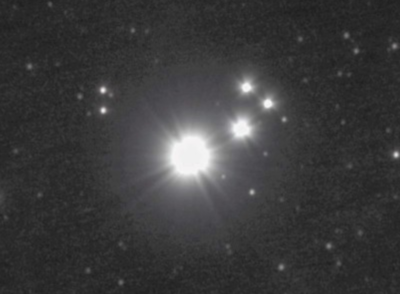 2.
I didn't seem to capture any color either. Every M45 image I've seen usually has a bluish tint but I didn't see any color (and I tried to bump the saturation quite a bit).
3.
How do the stars look (for an unguided image)? I think I have the flattener adjusted to the correct distance for my DSLR. This was my first time adjusting one. I didn't bother with my SCT reducer/flattener.
Thanks for looking.
John
Edited by psuaero, 02 January 2020 - 08:15 AM.