Venus still low here, but climbing pretty quickly and below are reports from yesterday and the day before.
Both dates there was thin cloud, some haze, which was strongly sunlit but each time getting less of a factor coinciding with the Sun going behind the rooftops. That cloud veil yesterday being intermixed with expanding contrails.......! Thus blue filter work was precluded; and the seeing also not favouring those shorter wavelengths.
2019 Dec. 31: used my routine filter combo #15+#58, which seems to approximate blue-filter views #38, #47 & #47B but is less seeing affected. Recent years I have also stacked the #80A with those but unsurprisingly no gain was had with those conditions. Going to the deep red filter, #29, was a steadier view but even with the cloud veiling still needed the #85 (Amber) adding to get the glare down. In a clearer sky at least the #25 would also be needed to get the glare down and then the more delicate (streakier) red-light features often stand out well.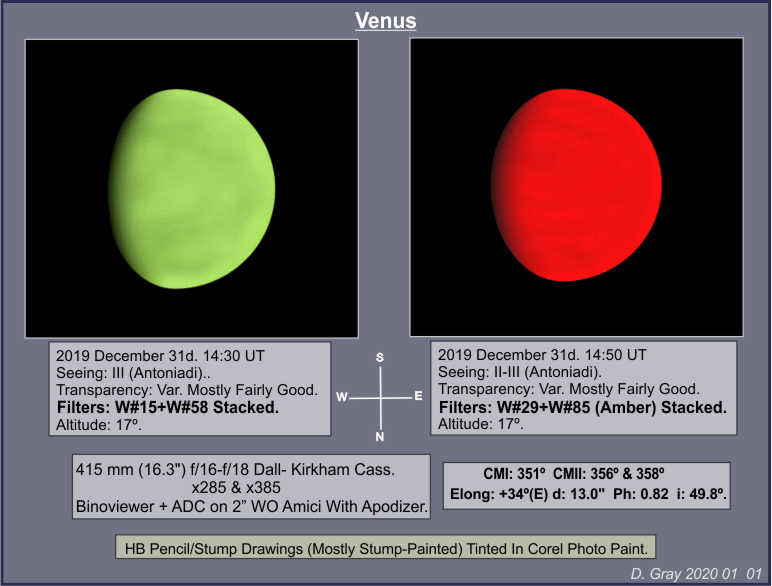 2020 Jan 1: At first the planet was boiling - evident even in the co-mounted 3-inch at 55x....! Soon settling, but
I decided to start with the less seeing-affected red-light view and features were gradually caught.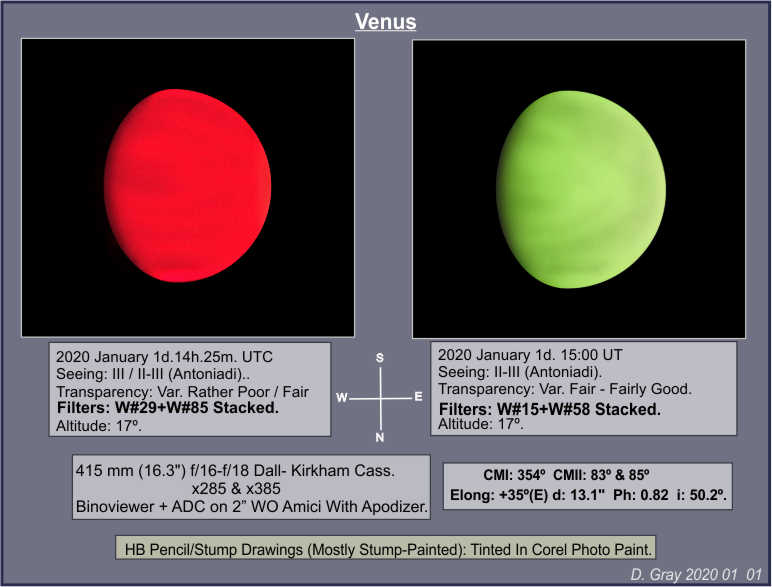 Almost 3-years back I chanced to find that a Baader Neodymium was proving effective in dealing with a milky/hazy sky. Although not specific to the views rendered here I did on, both dates, hand-hold the Neo-filter over the eyepiece (in concert with the filters in the train) and felt there was a crisper view. This is a continuing investigation as was detailed in this 2017 thread.
https://www.cloudyni...-neo-surprise/ 
Tho' I did not get sketches with that filter till those of Post #19 where they show the often more elusive cloud features on such a narrow crescent that were more apparent with the Neo added.
On its own the Neo does not help with low altitude - the reverse I find; but as anticipated this is not now a problem thanks to the ADC (Atmospheric Dispersion Corrector).........All this Neo stuff remains provisional but we have an elongation now where I can resume the inquiry.........
Dave.
Edited by David Gray, 02 January 2020 - 11:44 AM.