I found this beauty up for sale on a non-astro site. Didn't really need it but the price was super low and what the heck.
It came with a Starbeam (old style), case, Ultima 30mm eyepiece, TeleVue Zoom 8mm-24mm, clam shell, and a 2 inch old style TeleVue diagonal.
Everything is in great shape except the case. I have not been able to fully inspect the case, but I feel like the material is breaking down. Such as, there was little black dust on everything which I think was coming off the top of the case.
However, the scope looks almost unused, and the eyepieces cleaned up very nicely. The focuser is perfect and very smooth.
I have not tested out the Starbeam yet. But I did focus the scope at a wall in the house and it looked perfect. Seems like a nicely designed scope and is on par with the TV85 I once used. Raining out so have not gotten under the stars with it.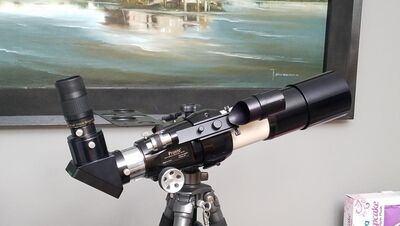 Edited by GOLGO13, 03 January 2020 - 08:44 PM.