Dear all,
yesterday evening I have chosen the lunar crater J. Herschel (named after British astronomer John Herschel from 19th century, the son of William Herschel) which exposed a pretty convexed floor in the rising sun. The crater has a diameter of about 150 km and lies at the northern "coast" of Mare Frigoris.
The sketch starts with Harpalus in the South, then you can see the 24 km crater Horrebow (named after a Danish astronomer from 17th century) just at the southern rim of J. Herschel. At the northern end of my sketch we have the 71 km crater Philolaus.
The dominating crater J. Herschel (too be precisely a walled plain) has a quite rough surface which is said to be caused by ejecta from the impact that formed the Mare Imbrium. This rough structure and its convexed shape resulted in a nice three-dimensional appearance.
Southeast of it, I sketched the secondary craters J. Herschel F and la Condamine B which are located in Mare Frigoris.
So here's the sketch: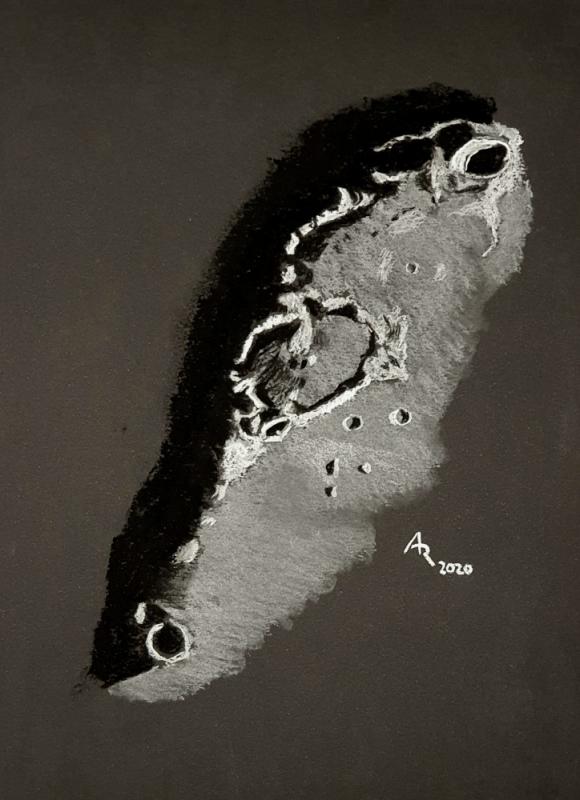 Telescope: Celestron NexStar 127 SLT
Eyepiece: Explore Scientific 14mm/82°
Date & Time: January 6th, 2020 / 1845-1945 CET
Location: Backyard, Dusseldorf Region, Germany
Technique: Koh-i-Noor chalk, extra charcoal and whitecoal pens and pieces on Seawhite of Brighton black sketching paper
Size: appr. 20x30cm
And finally here's a photo of my observation place: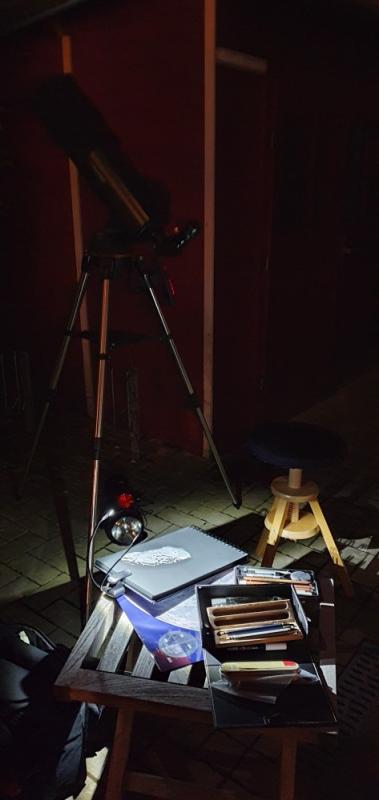 Clear skies!
Achim