This excise is inspired by this comment from @Starman1
TeleVue Orthos? Well, TeleVue can make a narrow field line of eyepieces with long eye relief to satisfy the hundreds who constantly harp about that, and make them as sharp or sharper than Delites.
But you can't do it with 4 elements. It can't happen unless you only want the center 10° sharp, and you use a tracking scope, and you only look at planets, never the Moon.

I've used lots of Abbe orthoscopic eyepieces since the '70s. They're great if your scope is f/15 and tracks. Otherwise, the outer field is just not that good.
At f/5, there is just too much astigmatism.

Good planetary performance doesn't require only 3 or 4 elements, it requires excellent coatings and lens polish.
So would you buy a line of such eyepieces if they were $200 apiece? I doubt it. But that's what they would have to cost.
So the objective is to design a minimal glass eyepiece in planetary focal lengths, with long eye relief, and good field correction. I reckon for long eye relief it must be a negative-positive design. The simplest design is 1-2 or 2-1, followed by 2-2. That is what I come up with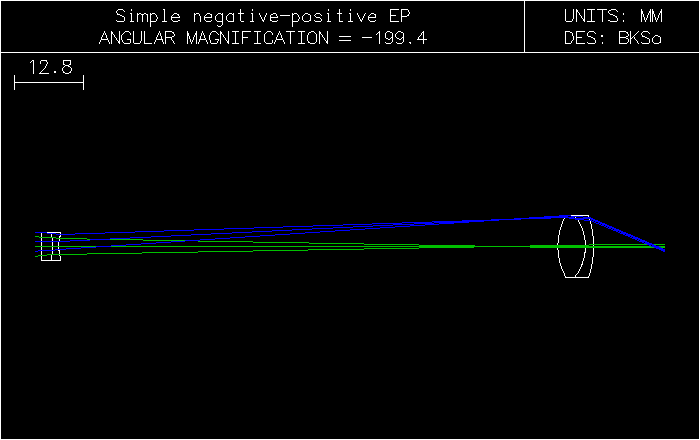 Designed focal length is 2.5mm, designed focal ratio F/5. Eye relief is about 13mm (longer eye relief is possible by allowing even longer distance between the two groups). The design uses 4 glasses (the Brandon also use 4 glasses).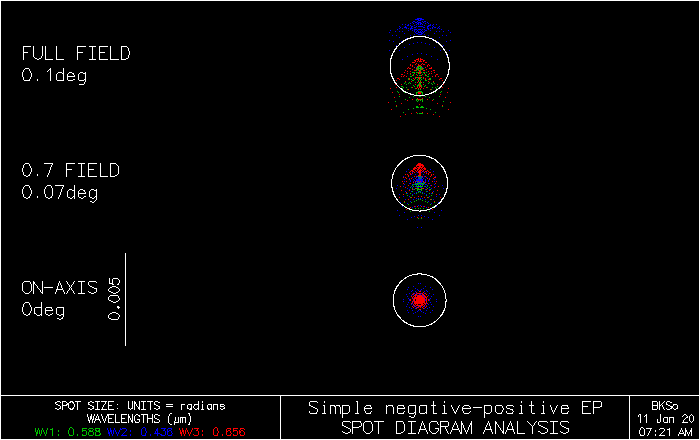 Spot diagram, with the white circle representing the Airy disc. The geometric FOV is 40 degrees, AFOV is 48 degrees after geometric distortion. The design seems to be well corrected, with some lateral color as the main aberration.
Not sure how good or feasible is this really?
Edited by BKSo, 10 January 2020 - 11:30 PM.