This is an odd question:
* It's about daytime use (birding)
* It's about a budget conscious purchase (odd for the refractor forum)
So here it is:
This chart has been posted here often, about achromats: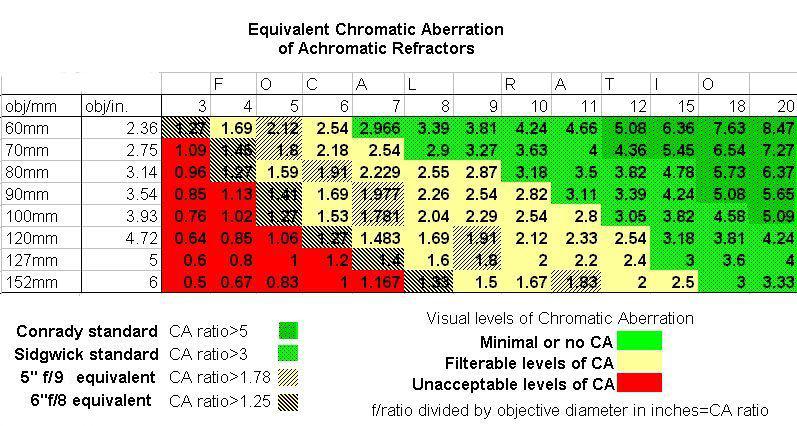 I'm looking for a lightweight spotting scope for birding, and I don't have deep pockets. No Swarovskis / Zeiss for me, please. Heck, not even celestron regals. ... Which is hard in a world where even the $300 Celestron Hummingbird ED gets bad performance reviews. See: it's tough being F4, whether ED or not.
My C90 is both too heavy to take to the field, and too high power to use on my balcony. My only refractor (F4.4 80mm achromat) is lightweight but has terrible CA for daytime use (I tried). Hence, the search for a decent budget spotting scope.
I have found something attractive: Olivon makes a $129 spotting scope called the T55, with a 55mm objective, and apparently 380mm FL (which makes it F7). It comes with 18x-54x zoom (7-21mm), but it also takes normal astro 1.25 eyepieces.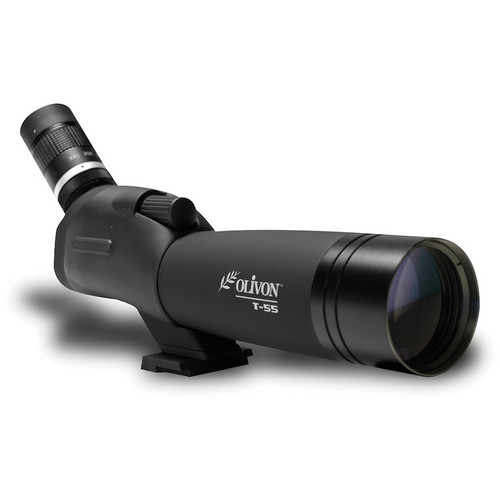 So it's a little odd for a spotting scope, see: it's still quite light, despite being somewhat long compared to the Celestron Hummingbird or the typical ~50mm to 60mm spotting scopes.
But I see potential in it:
* Being F7, perhaps CA is not much of an issue, despite the lack of ED glass, specially for a 55mm aperture. The table above suggests so.
* Supporting 1.25" astro eyepieces let's me worry less about the quality of the included zoom. If needed for better performance or wider fields, my Baader or Celestron zooms could be called to help, as would my other eyepieces.
- One big con is that its not Waterproof / Nitrogen sealed, no not fogproof either, which I've come to value on my birding binos, but for the planned use case, this wouldn't be a problem.
So, I'm thinking about pulling the trigger on this $129 spotter. It's a lot more appealing than a $100 Chinese
If refractor aficionados can enjoy the planets with F11 achromats, maybe I can enjoy birds with an F7 !
... Unless, there's something I'm missing, which is why I'm posting this: Perhaps you can advise me better... Show me the error of my ways, and the holes in my reasoning!
Edited by Adun, 12 January 2020 - 04:53 PM.