Good day everyone,
Just felt like a had to share I word of caution to my fellow Esprit users that the Tak bracket sold as to allegedly supporting Esprit telescopes (100mm and up) by ZWO does not fit on the focuser as you would expect it to. I see ZWO has in the meanwhile gone and removed Esprit telescopes from the supported list since I raised my concerns with them: https://astronomy-im...product/zwo-eaf
Some of the resellers however haven't: https://www.firstlig...ocuser-eaf.html
From FLO website: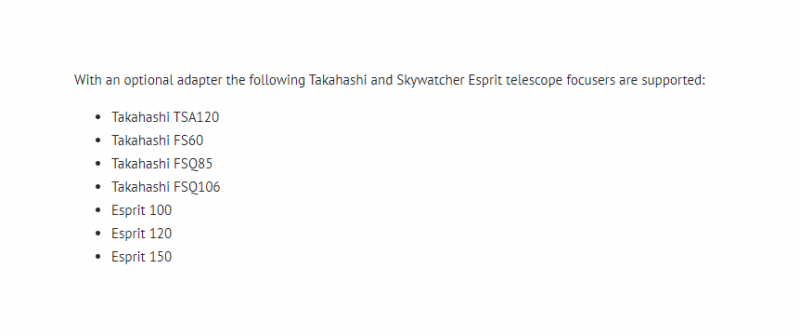 The best I could do is to attach the bracket using one screw only with the motor slightly tilted. I rather flimsy looking contraption.
The motor also shown quite a bit of backlash (I've determined around 130 steps) on the coupling-to-motor connections alone.
The backlash is not such a big issue, because at least if reproducible can be fixed with backlash comp. I am still waiting for ZWO to give me a satisfactory explanation regarding this issue and a way going forward.
Edited by Janco, 14 January 2020 - 03:17 AM.