In general I have only a loose overall plan for my observing aims on a given night – but I often surprise myself with what I might ultimately end up doing.........
Such an outcome last night......by late evening Storm Brendan started to ease and a fair to good clear sky developed. Still a stiff wind by 10 p.m. but thought to check up on faded Betelgeuse (close to mag. 1.5 I reckoned).....and Orion's stars not too flickering in spite of Brendan........!
Anyway I was sorely tempted to risk the wind and possible downpours and get a look at the Moon with a long delayed high power follow-up on crater Gutenberg which the VMA showed close to the terminator.
See this Link for why I wanted that, hoped for, better view...... https://www.cloudyni...-magnification/
The wind was from the SSW and that is about the best for the house to shield the observatory – and was indeed very still there; so set about that Gutenberg quest. Finding it too far from the terminator for what I planned...but I was struck by the sunset shadowing in and around Goclenius. My favourite Lunar/Solar lighting effects which lend very well to my stumping techniques.
Took me over an hour getting the sketch and as the seeing improved detail was getting pretty daunting – especially with being ever mindful of the weather situation. As it turned out that poorer-seeing start allowed quicker laying in of the main feature outlines; so was not at that point too compromised by my fine-detail hunger (greed even!) with my usual planet observer's mind-set!
In the D-K such fine detail that the Moon offers in the best conditions is likely why I do so little with it – not inclined to miss anything for the sketch risks a burnout with me alas.....One reason I tend to concentrate on colours on planets is that it somewhat sates that fine-detail 'greed'.
Dave.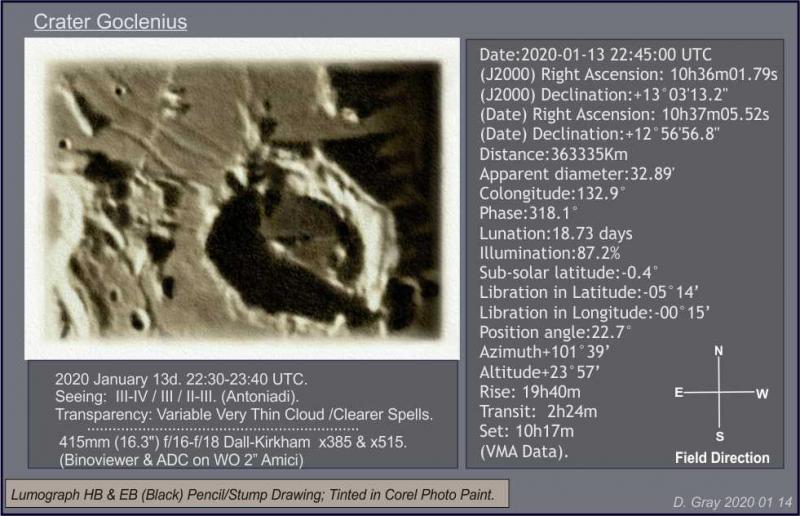 Edited by David Gray, 14 January 2020 - 06:22 PM.