Hi folks. Brand new to the forum and this is my first post.
I'm old now, but when I was a kid my folks bought me a Jason refractor on a wobbly alt/az mount with wooden legs. The thing was horrible, but I had SO much fun with it! I was able to see several things including Jupiter's bands and red spot, which I'm pretty sure was larger back then but it could just be my old eyes so...
I was stirring around the web lately and noticed that the technology seems to have brought awesome astrophotography results for tightwad hacks like me in their light polluted backyards, so that's very cool. I'm thinking I might try some of that out someday, but I will be stuck with a day job for several more years on top of the lack of energy (from just being old) so I don't see myself diving in very deep for some time. Just seems like the late nights would be pretty tough to integrate into my routine. But the occasional little backyard star party might be fun, so I'm dipping my toe in again.
So I picked up a used Meade ETX-70 kit today. The thing appears to be in fantastic condition for being 20 years old. I don't think it was used much at all. It came packaged in the original box and everything was even still packed into their original bags, so it at least wasn't used enough to lose any of the original packaging. However, despite the condition, the hand controller (and who knows what else) has issues that I'd like to address somehow.
First I'll mention that for years I owned a Celestron 8" SCT but (for me anyway) the thing was so cumbersome that I hardly ever hauled it out. This is why I thought the handy little package of the ETX-70 might be a pretty good fit for me. I know the achromatic configuration isn't the greatest, the GOTO mount is only slightly more than a toy and I won't expect miracles. But since I'm just dipping my toe in anyway, this seemed like a frugal place to start becoming familiar with things again.
I took a quick terrestrial view through the optics today and I will admit that it is tons better than the old Jason, so there's that. I say woohoo!
So FYI nearest I can figure, the handpiece is a 495 Autostar (has all the digit buttons and is from 1999)
But the problem is that when I power up the thing, the handpiece LCD screen did nothing - the red backlight came on (and of course the beep happens), but that's it. So I cracked the handpiece open and looked things over. I always suspect those flex cables, especially after decades of aging, and I think that might be where at least the first problem lies. If I wiggle the screen position a bit and power it back on, I can get the screen to display various things. Sometimes it will be two rows of blank borders around the characters, sometimes various gibberish, sometimes one straight horizontal line, and every once in a while it will even display what looks like a semi-successful boot... something like "Meade Autostar" on the top line and a scrolling message about not searing your retina with the sun on the lower line, but eventually it fades out and goes dark.
I'm fairly adept with even tiny soldering and even know a little (not much) about electronics, so if somebody can point me in a direction I can start, I'll give it a go. Cain't hurt it much at this point anyway, right? well maybe I guess.
So alternative to getting the handpiece actually fixed, or replacing it (for the cost of what I paid for the whole smash so far

) I wonder if there is a way I could try controlling the scope with a laptop and some software? I'm sure I could make the necessary cable if it requires that. Ultimately, it might be cool to outright replace the handpiece with one I build myself, but that's probably overkill and not worth it for this scope and would suck a ton of time figuring it all out (if the protocol is even available to hack it), so I think the best route might ultimately be to replace or repair the hand controller. But in the meantime, I sure would like to see if the scope at least moves around like its supposed to before I start wasting more money.
So I guess two questions in summary:
First, is there a way to control this ETX with a laptop and some software if I build a cable to suit so I can try it out before proceeding further? (if so, can you please point me in the right direction?)
Second, anybody here kinda knowledgeable about these hand controllers and point me in a good direction to start troubleshooting it? I have some good bench equipment (bench multimeter, power supply, oscilloscope, etc.). I would be more than happy to snap some photos or video to help illustrate what's going on. I'll even attach one so you can see what I got and what I'm looking at here.
Thanks a ton for any help.
I've been enjoying lurking for the past few days. I like this forum!
Who knows?... This round I might get hooked pretty deep and end up with an Apo quadruplet, decent mount, auto guiding & good camera, etc. etc. etc.... We'll see how that all shakes out over time. Baby steps.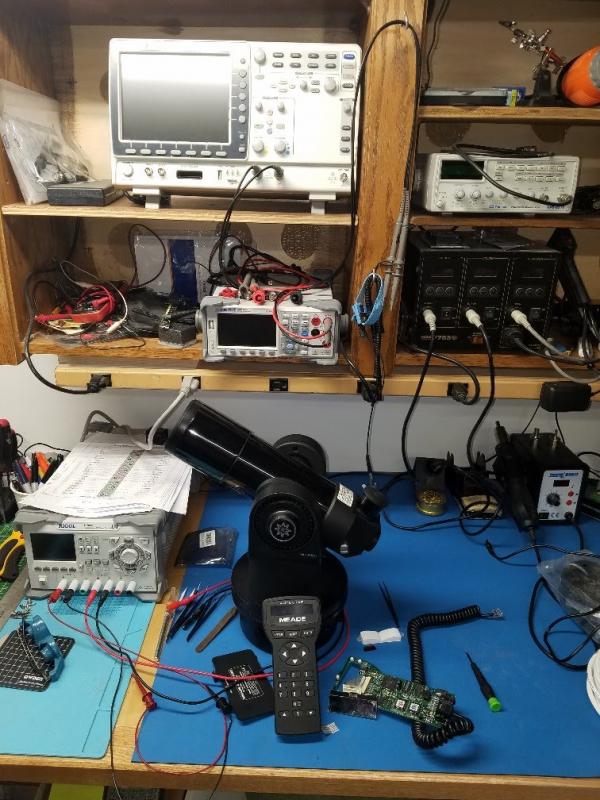 edit to add: By the way, I'm thinking about hacking a simple camera to this thing to see if I can get some cheap imaging done even if it's bottom of the barrel. Raspberry Pi has a camera with no IR filter on it which might be interesting to play with. Even if it doesn't work well, it's dirt cheap. Anyway, I'm getting ahead of myself already, I just thought that might be interesting to look into.
Edited by Vinito, 15 January 2020 - 01:26 AM.