Dear All,
This report is from last night's 'meet-up' session at the Great Sugar Loaf Mountain, Co Wicklow, Ireland. These meet up sessions take place once a month, and provide us with a great opportunity to observe the night sky from a dark site. For example, the 'Clear Outside' website estimate the sky quality to be 20.73.
With Orion looking magnificent perched high in the sky, I attempted to sketch M42. This is my first attempt to sketch this DSO, and it was my first time trying to include nebulosity in a sketch. Along with M43, the trapezium was easily observed at 133X. The Great Orion Nebula was clearly visible through the eyepiece, but I found it difficult to see more of the finer 'wispy' elements of it - I'm sure that will come with experience. That being said, there was strong contrast between the 'c'-shaped curve of the nebula and the dark night sky. Using averted vision, I could detect some mottling around the trapezium too. Interestingly, I believe I may have detected some colour in two of the trapezium stars (see sketch) - could this be right though? I spent 20 minutes sketching the object, and approximately 10 minutes at home using GIMP 2.0 to invert, and to crop the image. Further details can be found below:
Object: M42
Date: 17/01/2019
Location: The Great Sugar Loaf Car Park
Time: 21:40 UT
Seeing: 6pk
Transparency 4
Instrument used: f/8 150mm Newtonian Reflector
Eyepiece: Orion 9mm Expanse
AFOV: 66 degrees
TFOV: 0.495
Materials used: 2B, 2H graphite pencils, and a blending stump. The image was sketched at the eyepiece and inverted using GIMP 2.0
In addition to observing M42, we observed a nice double-star in Canis Major, M35, M36, M37, M38, and M45. We had fun with an eyepiece 'shoot-out' later in the evening. While my entry-level 32mm Plossl provided very nice views of M45, a fellow observer demonstrated the value of using a higher-end eyepiece. HisTelevue eyepiece provided far better contrast that made each objects listed above really stand out.
All in all, last night's 'meet-up' was very enjoyable, albeit very cold! Consequently, we finished up just before midnight.
Very many thanks for reading the above, and your comments and feedback are very much welcomed.
Clear skies to all,
Darren.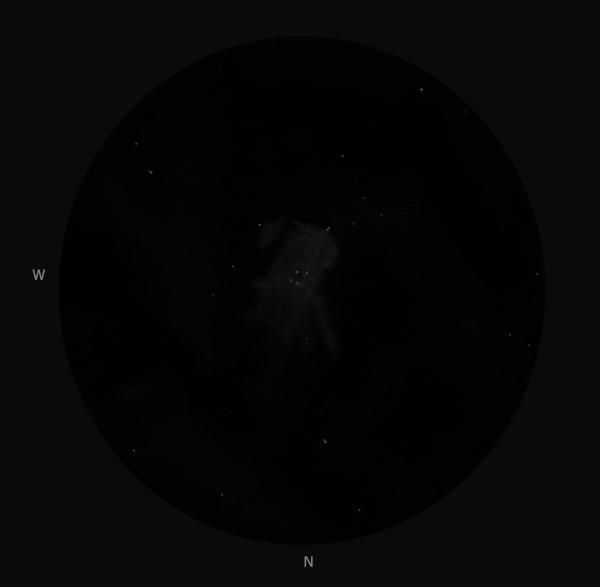 Edited by DDEV, 18 January 2020 - 07:28 AM.