As the title states, I wanted to share my experience with getting a budget astrophotography setup going with some good results.
Being into astronomy/telescope building/optics for quite some time I decided to put together a rig that would be capable of taking good images at the focal lengths of up to 500mm.
One rule I was planning to abide was to make it a budget setup that would not hit my wallet too hard. I also wanted it to be a portable setup as I live in a Bortle 8 zone and was planning to take the rig to a dark site.
The plan was initially very simple. I already had a Canon 450D and some lenses ranging from the Canon kit lens 18-55mm and up to 500mm.
I had the Antares 200mm F/5 Newtonian telescope on a CG-4 manual mount, an amazingly sharp visual telescope, as well as the Meade DS-2102 102mm refractor on an alt-az GoTo mount. I was planning to sell both as I no longer needed them, and I had other visual scopes that I was planning to keep.
Both telescopes disappeared very quickly gaining $850 CAD that I was planning to invest into my budget AP setup.
It took me some time googling and reading about all the equatorial mounts falling within the price range of up to $500-$600 CAD. I was considering the following mounts:
- iOptron SmartEQ Pro
- iOptron SkyGuider Pro
- Sky-Watcher Sky Adventurer
- ExploreScientific iExos-100
And was also looking through the ads in search of a used CG-5 GoTo or even the HEQ-5.
Every mount had its own pros and cons and I decided to go with the ES iExos-100 and I will explain why.
- Both RA and Dec axes have ball bearings
- Mount can be guided on both axes
- Mount has Go-To functionality
- Mount can be operated via computer
- Quiet stepper motors, didn't want to disturb my good neighbors at night
- Wireless
- Capable of handling the weight of the heaviest lens+camera combo that I had
- Portable
- $349 USD
A couple of things that I didn't like was the tripod with 1.25" legs and the fact that I was on the edge of a steep learning curve. I knew that the mount was a bit more sophisticated than its counterparts.
The mount arrived in a double box (box in a box).
Putting the parts together was a no brainer and I had it running the same day.
I installed the Explore Stars app on my Samsung A10 tablet and was able to connect to the mount wirelessly with no issues. I played a bit with it testing the features and making sure everything was running smoothly.
I then installed the app on my Windows 10 desktop computer and tested the mount connecting to it through WiFi and via the USB cable, everything worked flawlessly.
There was a bit of a backlash in both axes and without any delay I took the mount apart and adjusted both worm gears and belts to virtually eliminate any wobble in the axes.
I accidentally overtightened the RA worm and the mount started producing grinding sounds sometimes, so I just had to go through worm gear adjustment one more time. This was quite an interesting experience.
Alright, I got the mount, what's next?
I decided to put the Canon 450D with the Takumar 300mm lens on the mount and just do a quick test to see if the mount was actually good enough to follow the stars. One thing worth noting is that the Polaris is not visible from my South-facing backyard and I had some troubles trying to get the mount polar aligned blindly.
The mount was tracking well but the little misalignment took its tall on the maximum exposure that I could do – 30 seconds. That was not enough for me and I figured I had to start thinking about adding a guidescope with everything that typically comes with it (laptop, apps, cables etc.)
Did I mention this was supposed to be a budget project?
I had an old dash camera sitting somewhere in a box of "good stuff that I don't need but too lazy to throw out". It could be used as a USB camera if connected to a computer.
So I took the camera apart, removed the lens and married the sensor with my Takumar 200mm F/4 lens. Needless to say, that guidescope looked weird but as it turned out was functioning very well. Here is the picture of my first ugly setup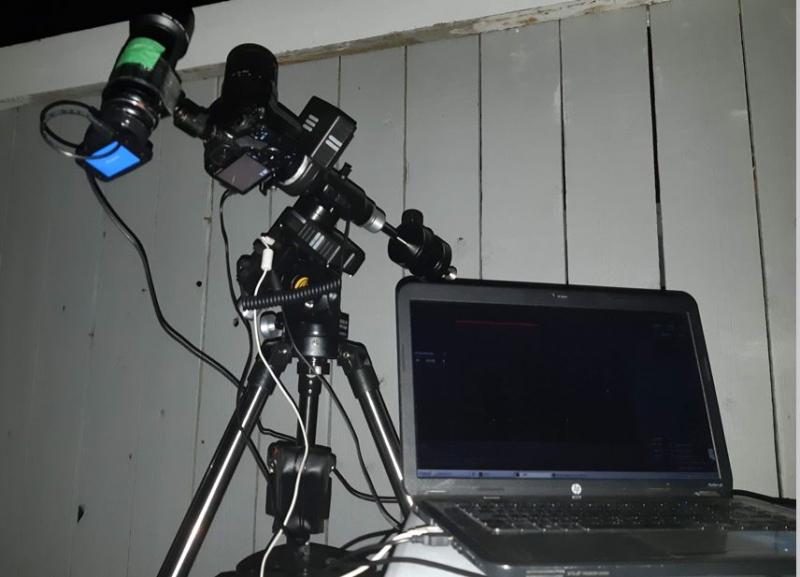 And here is the first stacked image of the M13 star cluster taken using that setup. Multiple 90s and 180s exposures from my Bortle 8 backyard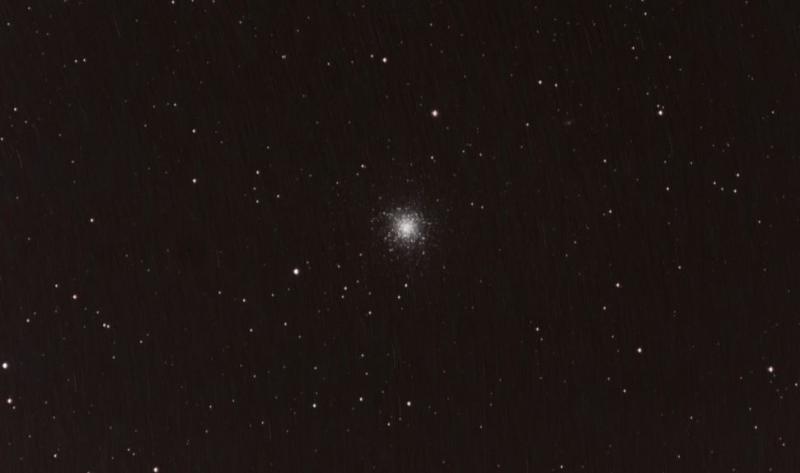 After I confirmed that the mount was actually capable of working in collaboration with the improvised guidescope, old laptop and the apps, I came up with the idea of assembling a better guidescope.
I read somewhere that the AR0130 sensor could be used in a guidescope successfully, though the maximum exposure time was only 1/10 of a second.
But the author of the article about that sensor on another astronomy forum assured me that the sensor could work. Without further ado I went on amazon.ca and bought the sensor with a tiny lens for $52 CAD.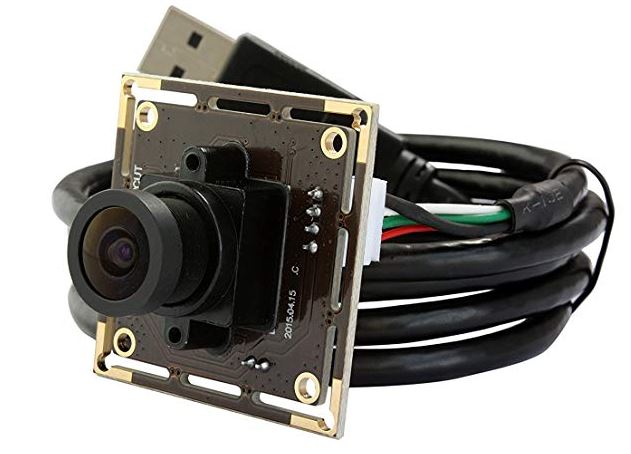 Once the camera was delivered, I took off the lens and put the sensor in a little plastic box that previously functioned as a VGA to DVI adapter. By using some random plastic tubes, I attached the sensor to an old 37mm F/3.5 monocular doublet objective lens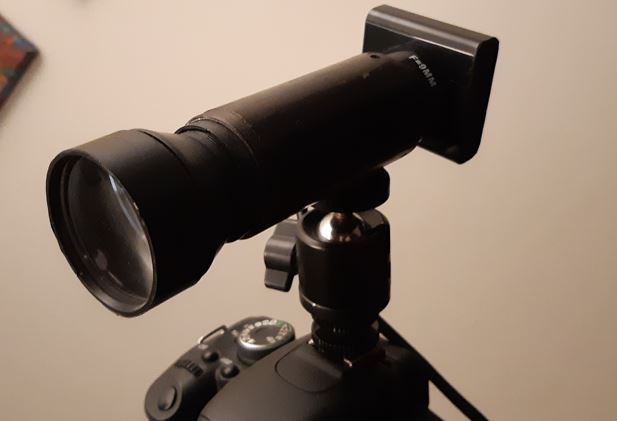 As seen in the picture, the guidescope is so small and light that it can be mounted directly on the camera using the ¼ to hot shoe adapter that I bought off ebay for $1.50 CAD.
The first tests in PHD2 revealed that the guidescope was able to register stars at any direction that I was pointing at from my backyard. That was promising and the following days I was doing some test imaging using different lenses up to 500mm of focal length. Guiding accuracy was within 1 to 1.5 arcsec which was enough to image with a 500mm lens.
At some point I spent some time and did the drift alignment to align the mount precisely. Then I just marked the tripod legs' positions on the concrete so that next time I could just bring the mount out and start imaging right away.
I will not get into much detail of how I set up PHD2 and Astrophotography Tool as this is not relevant to the topic. I just want to mention that the mount has been working very well with PHD2 and I had no troubles dithering in APT on every frame.
To avoid the mess with the cables I bought a cheap non-powered USB hub off amazon and I now have only one USB cable coming from the mount/equipment to the laptop.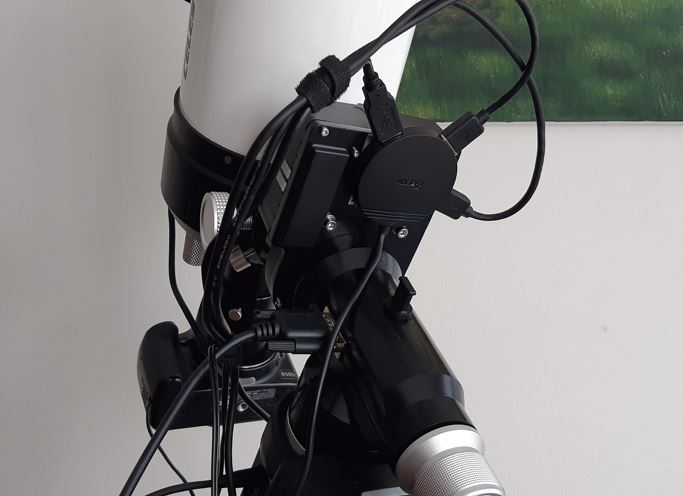 At some point I even tried imaging using my Celestron C5 scope.
The focal length at the camera sensor was around 1300mm and I was surprised by the guiding accuracy, I was getting pinpoint stars. Although it is not really practical to use that long focal length from where I live as the air is not stable enough at the sea level by the ocean. I would say anything up to 800mm would be more than enough.