Having just had a PM with another CN member who is getting ready to buy a Mod 3, the question that came up was should he get a left hand or right hand pod. That is a great question, and I have an opinion on darn near everything, so don't be surprised that I have an opinion on this! So, I thought I would share that with prospective buyers because you get to choose! It is oddly not intuitive.
The Mod 3 was never intended as a stand alone monocular. It was sold as part of a binocular that could be used as two monocular, but the primary intention was to make it as a monocular that could be used with two monocular when the occasion warranted that.
The gain controls are positioned so that on the Mod 3 Left pod (as Adam Baker calls these and since he makes them, I am going to use his terminology here) is below and left of the objective on the left pod so that it can be accessed easily by the left hand, and obviously on the right unit, it is below and right of the objective so that both knobs face outward and are low. So that makes it seem like you would want a left hand module if you are left handed and a right hand module if you are right handed.
Well, maybe, but I think it depends more on which hand you think you will hold the unit in to observe.
I am right handed, and I prefer to use my left hand when holding a monocular. The Mod 3 has a battery box that I tend position into my palm, and I wrap my fingers around this to hold the monocular. Now the issue is that when I do this, the gain control is facing almost straight up! This is not really the best for ergonomics. Now when I bought this, I ordered a right hand unit for no particular reason because mostly it was intended that this would be used in a telescope. When I occasionally use an SLR lens with it though, I think I should have gotten a left hand unit. With a left side pod, the gain would be placed more in the position indicated by this picture.
What I would suggest is that before buying, get a cardboard tube and hold it up using each hand to see if you think you would have a strong preference. If you think you would hold it in your left hand, then the left with the power supply in your palm, then the left hand pod would put the gain control on the right side and below the center-line. If you think you would observe holding it in your right hand, then the gain of the right hand pod would be on the left and below the center line.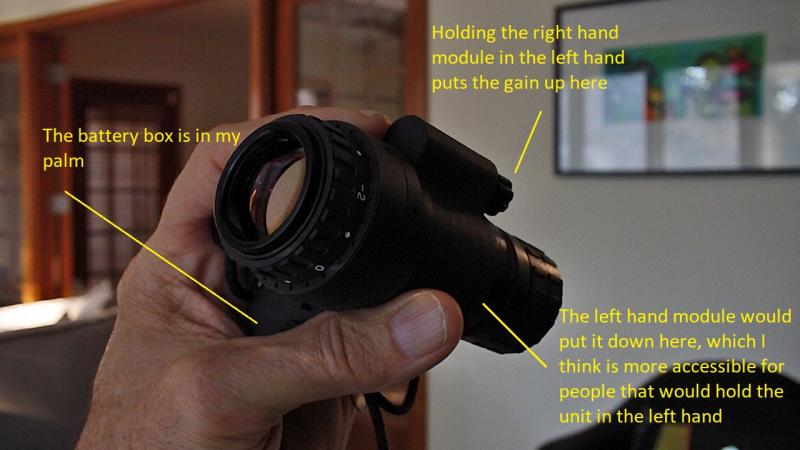 This is perhaps a bit counter intuitive because in the left/right hand thinking world, we think that a left hand thing is to be held by left hand people and a right handed thing is to be held with the right hand, but here, we are talking about what hand you want to use to run the gain control.
So, I make no specific recommendation, but this post was intended to let you better visualize the ergonomic of the left and right pods when held by the observer.
Hope someone finds this useful when they order their Mod 3!