G'day all,
Getting linear image data out of RawTherapee has opened up a few new experimentation dimensions for me, and color balance has been on the agenda in recent days. I've been familiar with G2V color balance for several years, but I was simply using G2V stars to set the white point. Unfortunately, outside of a table of Hipparcos catalog G2V stars, there's not a good database out there of G2V stars. So I found myself clicking around my images looking for stars with B-V=0.69. But it dawned on me that with linear data, I can use any star (with unclipped highlights) whose class I know—as long as I have a reference color.
I had come across Landon Noll's stellar classification table some time ago, which has RGB colors for every class of star out there. And chances are, there's a HIP star in almost every one of my images—the wider the field, the more to choose from. In my shot of Orion a few nights ago through my Nifty Fifty, I took exposures of 30 seconds, 10 seconds, and 1 second—so I could even see how the color offsets looked at lower levels. I picked HIP 26477, which was unclipped in all exposures. It's a Class B3V star, with a reference RGB color of (165, 185, 255). The brightest RGB combination in the set was (251, 248, 250). Clearly, the red was severely overdriven, while the green was a little less. With 14 RGB points across the three exposures, the linear correction curves were revealed in Excel—notably the trend curves intersected pretty close to 0: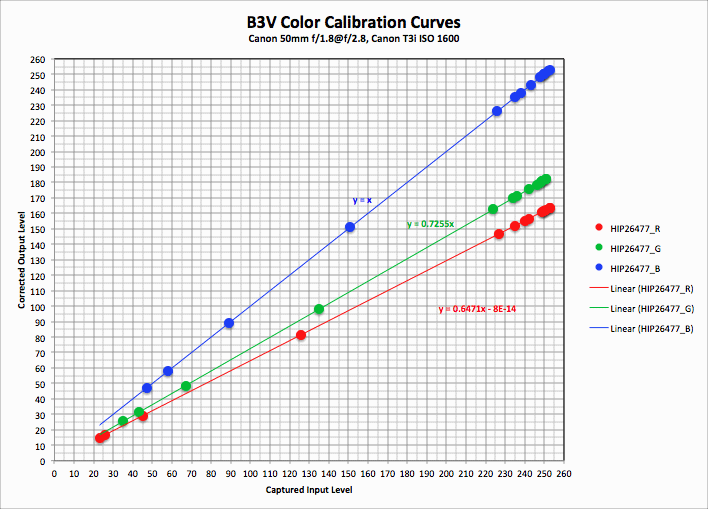 Linear correction curves are easy to apply in Photoshop with Curves. I just adjusted the peak output of the Red and Green channels; the peak value for the channel was the slope of the color's trend curve × 255.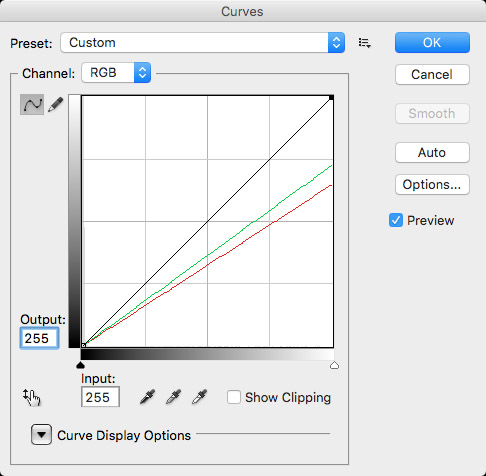 The black point was a little trickier; I simply used Lodriguss's method for light pollution remove documented in his article in Sky and Telescope. In the article, he claims it doesn't matter whether you apply this before or after stretching; I applied it afterward. Here's the final output (with HIP 26477 marked, just under the Running Man Nebula):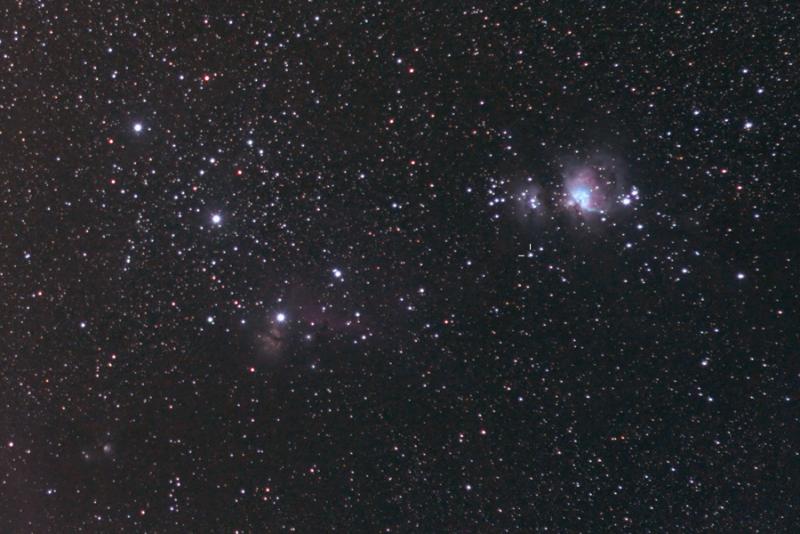 So now I have a way to calibrate my targets for better color accuracy. At the very least, my star colors look a fair bit better…
Cheers,
BQ