I thought I'd stop posting the images of the little RA Newt in the "What did you do to your scope..." thread as it becomes clear that it might actually get "first light" in a week or so - I'm hoping by Feb 2nd (Moon at First Quarter) but I have no intention of racing too fast or jinxing myself with that or any other deadline..!

The first few postings will concentrate upon the scope itself, but the restoration of the GEM pier mount will follow on from this & I thought it good to chronicle a lot of what I've done contained within a single thread: many thanks once again to CharlieB for giving me several very essential parts such as the RA worm & fittings & the Dec clamping casting etc...& for a lot of images & dimensions of other mount parts I will have fabricated, as they would be virtually impossible to find anywhere.
Upon reflection this little scope has had a rough life in some ways, the tube was badly scored for some unfathomable reason, the c/weight & bar were lost & a poor substitute arrangement was stuck on: the primary mirror was scratched but fortunately these were only coating scratches & scuffs...re-coated the surface is as one would think it originally looked!

And of course the broken casting as well as a substitute RA worm assembly.
There were some dents in the ota as well & the paint was of course very bad but I have managed to fix the tube up with 5 coats of "prime & paint" - finding some very fine wet & dry worked wonders at the finish on a thick paint-coat by attending to some blemishes while I was cutting & polishing the topcoat without going below the paint-job.
But it is now starting to look like it was meant to!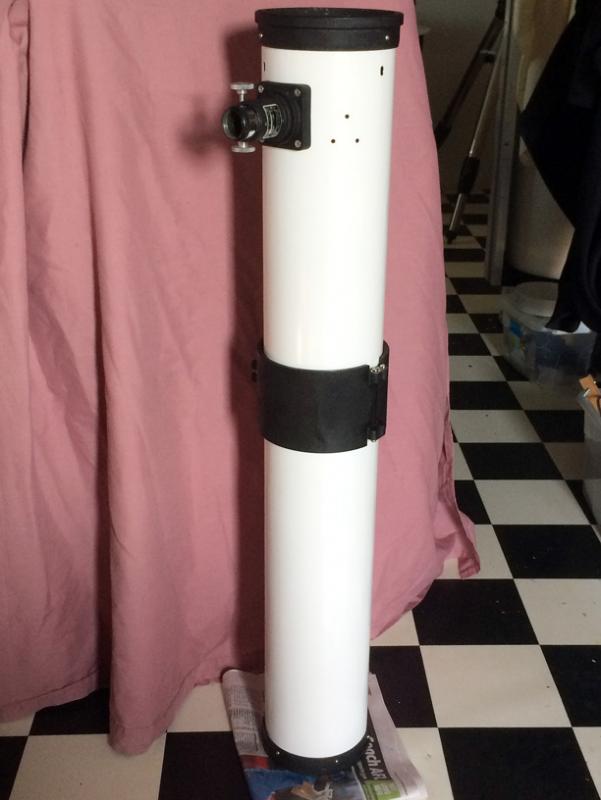 The clam-shell clamp you see is from another old junk find unit refurbished - I can affix a dovetail bar to this one so that the ota will get first light before the GEM is finished...although I have arranged for my friend Dennis to fabricate the remaining necessary mount parts in the next week or 2 after I send the drawings to him in the next few days...
Still finding oddities with thread types where those holding the end-castings onto the ota are 1/8" types although the Japanese did mix BSF/Whitworth with their metric threads...not to mention that weird JIS 0.9 pitch metric set in the primary cell!
I did replace the British threads of the 4 focuser-to-tube screws because although I don't know what the originals were, those in it when I got the scope were simple slot-heads, despite nearly everything else I've come across being phillips heads.
I replaced them with stainless c/sunk phillips head screws which I think look much better...to me slot-heads often signify cheap gear - which I believe the RA is most definitely not!

Maybe they were replacements...

I'm still deciding upon what I will do re the focuser - I've now fixed the issue I first had on re-assembling - it is now very smooth & light by some extremely fine & careful drum-sanding of the 3 red fibre strips inside the focuser body

but I might discard (or rather, keep in the box) the screw-on spring-tube attachment that allows you to slip an ep in...by lining the fitting that one normally sees at the outer end of these types of drawtubes that has a pinch-screw - I won't drill & tap a pinch-screw even though that would be fairly easy to do...rather line the inside of this fitting so that an ep can slide in & out with good grip.
The diameter in this is slightly larger than those normally found so a pinch-screw would be less ideal here anyway imo: I want to do something with this aspect as I have realised that with the spring-tube screw-on attachment for ep fitting, the focus-position would require little racking out of the focuser draw-tube...I want to image with this scope & I have found that with these classic Japanese refractors getting enough in-focus can be an issue - but removing the extension that the spring-tube attachment creates should make in-focus much easier for imaging.

So it'll be a felt of even some hard but smooth liner in the draw-tube fitting (minus the spring-tube) & this way any ep or camera nose-piece will slip that much further into the draw-tube.
Tomorrow I'll take a break &/or centre-spot the primary mirror & do some touch-up of flat black just inside the ota as well as on the nuts & screws that are internally visible - at 70 I found hand cutting & polishing even this little ota - plus all the fiddly bits - was well enough for one day!

But at least now it is starting to look like a scope again..!

Edited by Kokatha man, 26 January 2020 - 05:28 AM.