At the time that I purchased this cover, I was the graveyard shift five days a week. Now I work longer shifts, but only three days per a week which has made it much easier for me to engage in this hobby. I really wanted to and still want to build an observatory, but someone kindly suggested the Telegizmos-365 cover and I was not disappointed.The person who recommended the cover did say something about rust on the tripod bolts, so I did not hesitate to get the tripod cover as well. Another countermeasure was the addition of a large vented canister of desiccant.
So far, I've only used it during the winter. At the start of each session, the polar alignment is in the ballpark but it always seems to benefit from doing it again with the help of SharpCap Pro.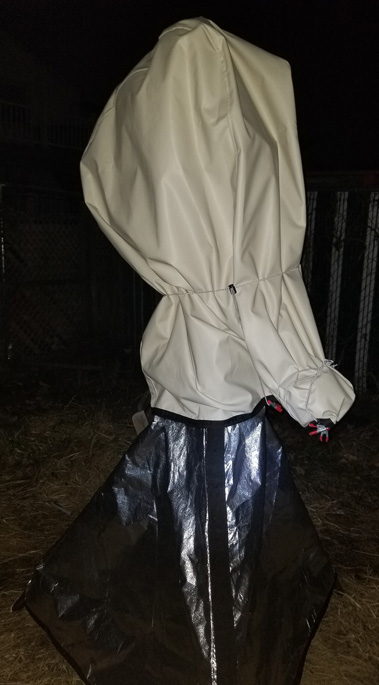 In addition to the cover TG365 cover, I purchased the tripod cover offered by the same manufacturer.
Interestingly, the silver on the top half is supposed to face inward, but while it faces outwardly on the bottom cover. The product comes with a page of thoughtfully written directions with some guidelines to ensure that the cover remains in good shape.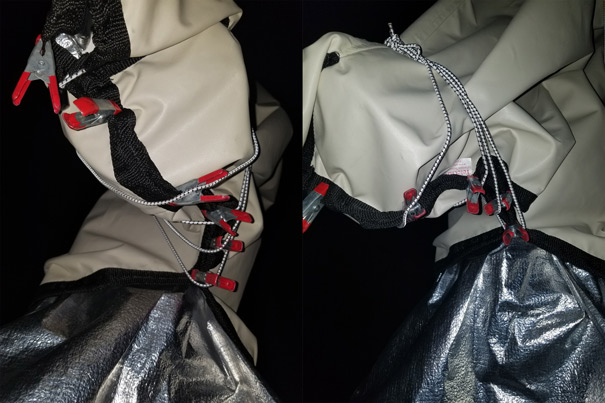 Included are a few of these clothes-pin/crock-clip thingies. They basically pinch the ends together to allow you to form a custom seal. Observe the visible opening revealing silver material on the front left. I probably could of left it but I curled it around attached a clip over there to seal that little opening right after taking this picture.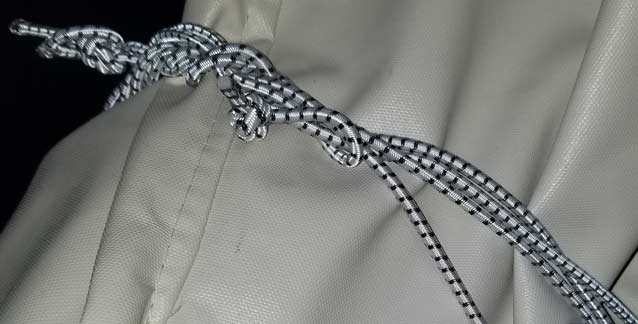 Both draw-string bungies have a knot installed at the end from the manufacturer. I leave these knots as they are and use them as anchors to keep the ends in place. Basically, the elasticity makes it tie itself.
Still not sure if this is the "right" way to do it but it keeps it tied down where it counts.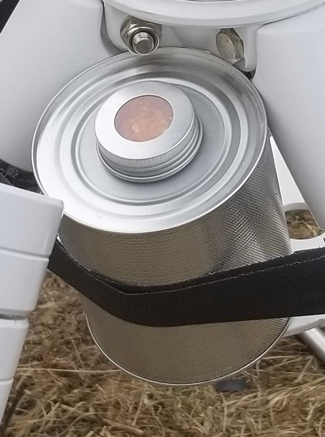 Prior to putting the covers on, I use a little bit of gaffers tape to hold a canister full of silica beads in place. It's the only reason that I use the accessory cover lately.
The orange-ey beads at the top turn blue if they absorb a lot of moisture and provided as a means of moisture detection.
Eventually, I would really like to have a motorized means to close a cover over the scope and mount. So that, if a 5% chance of rain becomes 100% when nobody is home, I could at least send a "close the door" command. Once I work out the fundamental, I can sort out ways to further automate it. Perhaps a sensor to detect rain or high RH (still shopping for a personal weather station).