OK today I took the day off and disassembled

my GSO 6" Classical Cassegrain because the other day I used the flashlight testing technique and found my thru put was only 140mm instead of 150mm.

Here's the link for how to do this .https://www.cloudyni...illustrated/   This also was found out by another members calculation for his 150mm scope was also working at 140mm.
I was quite surprised when I took the measurements with a vernier and used "Corel Draw" to lay it all out to scale.

You can pm me if you have the program or want to download the trail version and I'll gladly send the file over.
Also I use some gentleman excel program (can't give him credit, don't remember how I got this

) to see where it all landed and if I'm correct which I can't see being wrong this is no duck!
The secondary is a Hyperbolic Mirror and if it's right and I wish somebody with more knowledge can correct me.
The scopes working at f/14.74 @ 2212mm not a f/12 @1824mm. The four yellow blocks basically match my numbers on my drawing!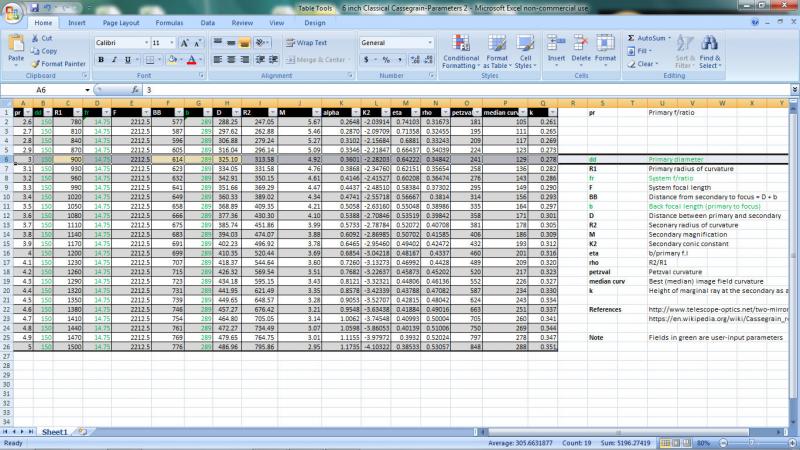 Here's the excel sheet if you want.

6 inch Classical Cassegrain-Parameters 2.xlsx 26.06KB 28 downloads
I was looking for where it was vignetting it down to 140mm but couldn't find it either. This is nuts or maybe its just me..
Anybody willing to help or explain my mistake.

Mike
Edited by Spacedude4040, 27 January 2020 - 08:03 PM.