G'day all,
It was unexpectedly clear a few nights ago. After my passable results on the Eta Carina Nebula last year, I've been wanting to try my 52mm aperture mask on it, and I was finally able to capture 76 minutes on it. With my recent switch from ACR 6.7 to RawTherapee5.6 for debayering, I get a lot cleaner results on the background noise, and I found I could get visually pleasing results from way out to way up close—with round stars from corner to corner: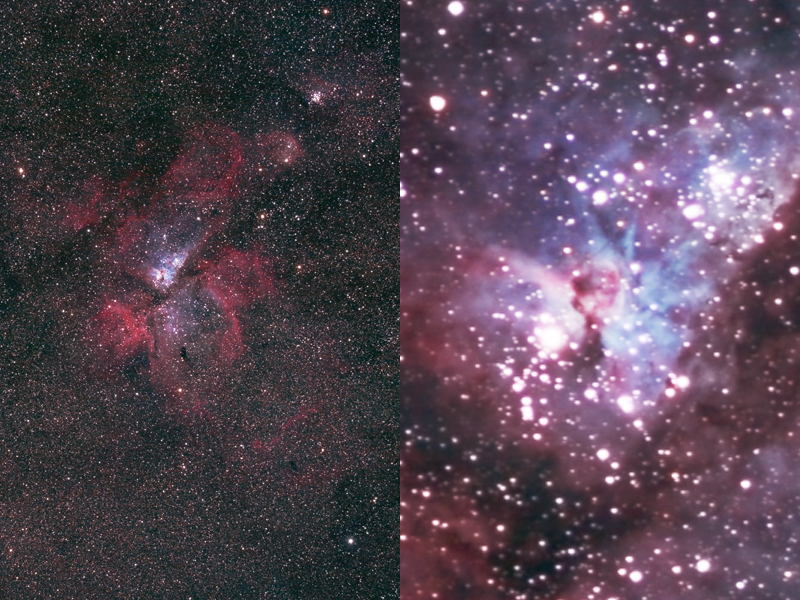 I also found that with my latest techniques, I could actually scale up by 50% (I usually scale down by 50%). This allowed for a nice, full-screen crop of the Keyhole Nebula that showcases the deep contrast between the blues and reds: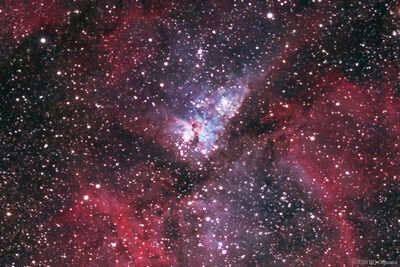 I uploaded the full res to Astrobin:
Eta Carina Nebula, 2020-01-27
Canon 200mm f/2.8L II w/52mm aperture mask (~f/3.8)
Canon T3i, 153×30sec@ISO 800, 59×darks, 1×flat
Debayered and calibrated in RawTherapee5.6
Aligned & stacked in Lynkeos 3.3
Processed in Photoshop CS5 w/
Annie's Astro Actions v7.0 &
Astronomy Tools v1.6
Tropic of Capricorn, NT, Australia
Cheers!
BQ
Edited by BQ Octantis, 29 January 2020 - 03:21 AM.