Dear All,
As you may recall I set-out in January to submit one Lunar sketch each month throughout 2020. The purpose of this exercise is to systematically record any progress I might make over the year. In addition, by making a commitment to sketch the moon each month, I'm hoping to learn more about our closest celestial neighbour. Not only am I happy to submit my second sketch of the moon this evening, but I have spent the past couple of hours discovering the wonders of Hainzel Crater (41.3° S, 33.5° W).
Up to this point I was unaware of the crater and its environs. With the Moon at a waxing gibbous phase (85%) the terminator was close by. Consequently, there were beautiful shadows cast along Hainzel, Hainzel A, and Hainzel, C. When observing these craters I felt that a 'guitar-like' shape was evident. What struck me most though, was the magnificent array of small craters running west to east under Hainzel A. These features were striking at 200X, and I plan to revisit this area of the Lunar surface again for two reasons: Firstly, to spend more time observing the rather complex formation in and around Hainzel Crater, and secondly I'd like to give Mee Crater another go. I found the intricate details within Mee Crater extremely difficult to illustrate, particularly given I used charcoal. I think next time I'll use pencils, or pastel pencils because I feel being able to sharpen the tip will help bring out some of the finer details.
In terms of the other details from tonight's session they are as follows:
Date: 04/02/2020
Time: 21:24 UT
Location: Dublin Ireland (Bortle 8)
Weather: 3°C, with a slight breeze
Seeing: 7PK
Transparency: 4
Instrument: Orion XT6 (150mm Newtonian Reflector on a dobsonain base)
Eyepiece: 6mm Orion Expanse Eyepiece
AFOV: 66°
TFOV: 0.33
Materials used: Charcoals, black paper, and clipboard.
As always thank you for taking the time to read the above and I welcome your comments, critique, and guidance.
Clear skies to all,
Darren.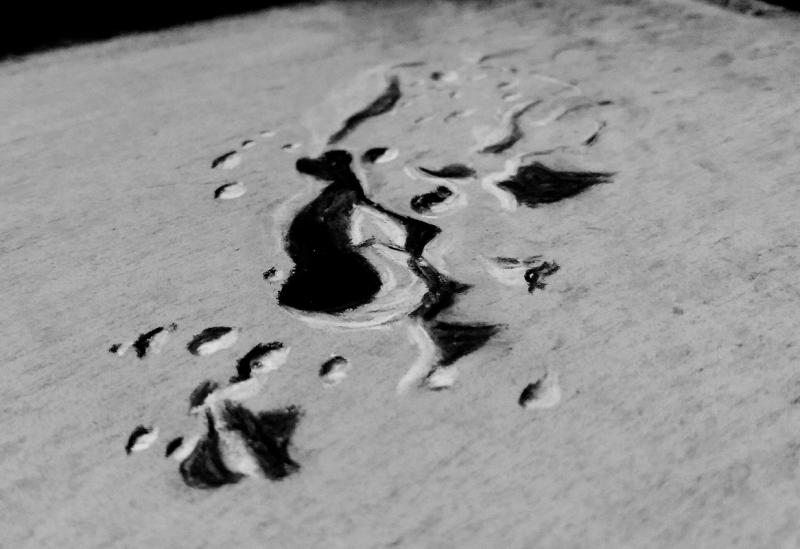 Edited by DDEV, 04 February 2020 - 08:44 PM.