This is really a question to any astronomers out there, and based on the imaging equipment I'm currently using - I love the craft of astrophotography, however I would also love to contribute data to astronomers in need, and I just don't really know what targets and research subjects I could explore given my equipment.
I'm aware that exoplanet surveys are popular with amateurs, along with variable star observations - however, those tend to be large aperture setups, and specialized CCDs whereas I'm using a CMOS camera. I'm open to adding new filters like B and V band, but wasn't sure if those have much use outside of variable star data, and compatibility for CMOS sensors.
So here's my setup, and I'd appreciate any input for pro-am collaborations that I could get involved in:
Mount: Orion Atlas Pro EQ-G
Telescope: Altair Astro Wave Series 115mm Triplet APO + 0.79x Flattener/Reducer (Altair Astro)
Guider: Astro-Tech 60mm Guidescope + QHY5L-II
Camera: ASI1600mm-c
Filters: Astronomik Type 2c (LRGB), and ZWO narrowband set (7nm)
FL 636mm, f/5.5, 1.23"/pixel, FOV (1.59º x 1.21º)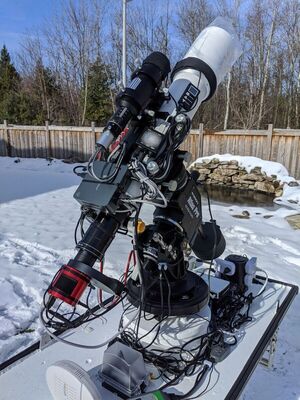 Clear skies,
Tim
Edited by Tsarbomba, 07 February 2020 - 01:13 PM.