Venus is always a revelation when viewed as in the steadily improving conditions on this date; more hazy later. Not caught it at all since; and with Storm Ciara and the continuing prospect of stormy days (Storm Dennis) into next week has me posting what I have so far......
The features depicted were readily seen – tho' more coarsely – in the 76mm (3") at 80x & 160x – and still rather too bright in the latter. Stopping down to 40mm gave about the right level of brightness at 160x – features even more 'chunky' but well apparent.....floater sufferers beware.......!
The sky reasonably clear but milky-bright and once again the Baader Neodymium was a help crisping the view....Having lately added a 1.25" version to the filter collection (already a 2") for more stacking investigations – even Neo+Neo!
Oddly for all I find the Neos seem to cut through that milky daylight haze with Venus, I recently tried in daylight to catch the low-sun shadows on crater Plato's floor.
Disappointingly, even paired, the Neos failed to cut through the haze. Near lunar first quarter (90º max polarizing of sunlight) a single polarizer works well. Bright haze tends to defeat that but got a fair view adding a Neo also.
In the increasingly hazed sky the non-filter view of Venus...brightness reduced to a more comfortable level...was a beautiful sight and a pastel rendering was decided upon....couldn't resist!
Dave.
EDIT: I see that file compression has flattened the contrasts and tonalities somewhat....so here a second attempt!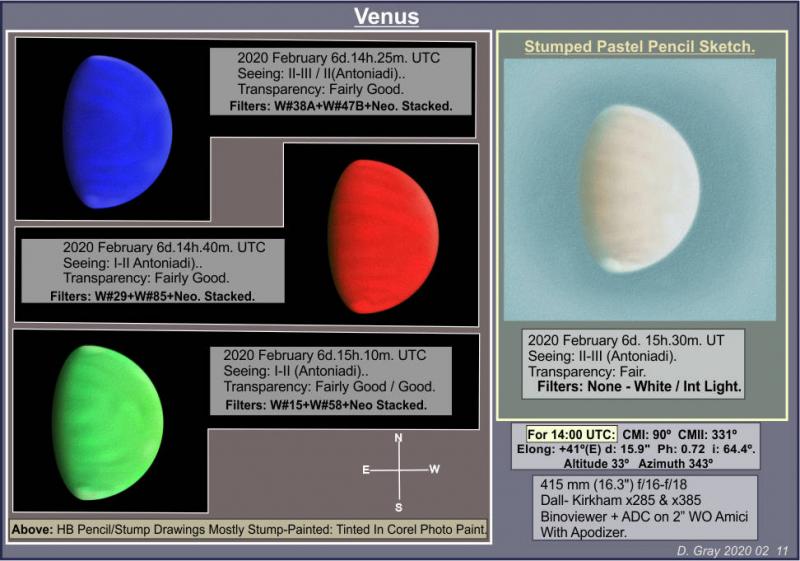 Edited by David Gray, 12 February 2020 - 07:22 AM.