A few days ago I drove upstate to talk with Fred Pauli, the former owner of Pauli's Wholesale Optics which was in business from 1978 to around 2003. Today, Fred still sells parts and a few scopes on eBay and his site astroptx.com, but by and large, most of his scope inventory is not listed for sale (or he's listed it at rather high prices so that it doesn't really sell, for reasons I'll explain in a bit). Fred's talked about on here occasionally mainly because of his large inventory of classic parts/accessories that he offers.
I went to buy some posters, but I also wanted to hear the full story of his business and what happened to it. Fred has not worked since his retirement from the astronomy biz and his abrupt disappearance left many people startled.
I'm no journalist, and I didn't take written notes, but this is my best attempt at, well, an interview, and I thought I'd post it here.
How'd you get started in astronomy?
"When I was a kid I always wanted one of those Unitron refractors, even if it was just the 60mm altaz models. Trouble was, those cost something like 180 bucks, and the minimum wage at the time had just been raised to $1 an hour. It was a lot of money. I ended up getting a... 50mm? tabletop refractor for Christmas, don't remember the brand. Something Japanese. We didn't have a table to use it on outside, so I remember using it, kneeling in the snow on the ground to look at Saturn. My mom called me inside one night and said 'You'll never make money off of telescopes!' - boy, was she wrong, and thankfully she lived long enough to see she was."
What was your involvement in the hobby like after that? And the business, how'd it start?
"Well, after a few years of that I sort of got busy with other stuff. Cars, girls, the kinds of things most teenage boys find themselves spending more time on than telescopes. When I was in my late twenties I remember going to the Griffith Observatory and looking through one of their big refractors. After that I bought a Celestron C8, one of the early ones with the holes in the forks. I think I spent more time looking at that thing then through it. I'd keep it in my closet all assembled and in the middle of the night I'd just turn my light on and admire the thing, or make sure it hadn't fallen over."
"I was still living with my parents at the time, working part-time as a draftsman for electrical systems. I recall doing some for a nuclear submarine. But I'd always wanted to be a salesman like my dad - he owned a sporting goods store - and it occurred to me I could sell telescopes."
"The business started out of my closet, but it grew and grew. I managed to get a dealer's license from almost everyone in the biz - Celestron, Meade, Criterion - later Bausch & Lomb. A lot of the smaller Japanese companies and importers were very easy to get into business with - they shared sales reps, so I had days where, for instance, I talked to a guy repping for Simmons and he ended up selling me on Tasco - though I tried not to sell much of the cheap junk stuff at my store if I could help it. The business lost money for the first few years, however, and I contemplated shutting it down, until the Halley hype arrived."
What did you think of Criterion?
"It actually took me a while to become a Criterion dealer - I was selling Celestrons and Meades for quite a while first. One funny thing that I noticed when I went to pick up stuff from them - their parking lot was all dirt, and you'd kick up huge clouds of it just walking around. I don't know why you'd ever want this near your optics shop."
"I mostly sold for Criterion after they got bought out by Bushnell which got bought very quickly by Bausch and Lomb. I never cared for the 4" and 8" SCTs. The optics were never that good in any of them, and the focusing system on some of the 8s I tried was never quite smooth. It made this strange grinding sound at times."
What about the B&L 8001? Was it really better?
"All they improved with the B&L 8001 was the mechanics. The optics being better is a myth. All that changed was that the drive got some upgrades and they switched it from the old Golden Pyramid to a tripod made by Davis & Sanford that Meade later bought for use with the 2080s."
Side note: I've personally used a 2080B on the D&S tripod, and while it's not as rock-solid as the Standard Field tripod (nor, I suspect, a Golden Pyramid), I didn't mind it either and the weight is much lower.
And the 6"?
"Criterion/B&L never marketed the 6" for the same reasons Celestron ultimately discontinued the C5. It required the same level of man-hours to make all the parts and the optics, so they were making far less profit or perhaps even losing money. As a result they didn't sell that many of them and a lot more quality control seems to have gone into them."
Fred has
five
B&L 6000s. One is in mint condition, never used or taken out of its case before he showed me - he's asking $695 for it on his site. Three others are dusty and worn but could easily be cleaned up to brand new, and one more is in pretty good shape with the original tag. He wanted a similarly (albeit not quite as) high price for these and doesn't have any more Golden Pyramids or wedges for any of them, so I passed. Would've bought one if it was a good deal.
What was it like with the Halley mania and your business?
"Unbelievable. Scopes were for sale at the grocery store, the rug store, you name it. People wanted to buy twice as many scopes as I could physically manage to sell them! My prior reputation led to a huge business boom. I hired some employees and bought a storefront/showroom in Danbury. I had a 5" Unitron and a C8 in different corners and all sorts of posters and banners up on the walls. Even after Halley, Hale-Bopp and others kept us going."
Fred told me that he might've used the Unitron all of once, and that it was undermounted. He sold it a while ago.
"Once I was listed in INC Magazine's list of 500 top growing American businesses. I was offered to attend an awards ceremony by the governor of…. Wisconsin? - I declined and told him that stuff like this was why I was one of the 500 top growing businesses. I'd wake up in the morning and take sales calls in the shower, then go to work, then come home and be on the phone till 10:00 and go to bed. I sold my motorcycle and my boat because I just didn't have time for them. I didn't get married till I was over 50."
"I arranged for a 16" LX200 to be bought for the high school here in New Milford. Paid for shipping, they paid me back for the scope itself. They asked if I wanted a plaque on the telescope or anything, I said no. I was busy enough with clients and couldn't handle the increased, local attention that the plaque would inevitably bring."
I believe Fred mentioned buying the dome for them but I'm a little unclear. He also mentioned helping arrange for the installation of a C14 at Mattituck Community College, and the debacle of installing it on the roof, making it ADA-compliant, etc...
What led to the decline of your business?
"Sales went down in the late '90s, but I was still making money and working just as hard. But after the 2001 attacks I realized I wasn't living my life to its fullest extent (note - I am paraphrasing a bit here, I don't remember Fred's exact words). I just…. closed. I wanted to actually live my life. Drive my Corvette somewhere other than work."
"There was no going-out-of-business sale, no announcement, nothing. I just stopped advertising, closed the store, and put all the remaining inventory either in my basement or in the attic of the second house on the property here. If I recall correctly I still had $120,000 worth of merchandise when I closed."
And since? What about observing?
Fred explained to me that he didn't have time for observing for most of his career, and that he has retinitis pigmentosa. He's been unable to use a scope for at least twenty years, and stopped driving a while ago due to his tunnel vision. He has trouble using his computer let alone a camera. For his eBay listings he holds the merchandise up to his iMac's camera and wears a sweater as a background - this is why it's hard, nearly impossible, for him to list the scopes.
"For a while I'd hire kids from the high school as secretaries - to help me take some inventory and sell things off… one girl helped me set up the website that I have now and PayPal and the eBay account. Eventually it became too odd to do that and now I just run things myself."
(Paraphrasing a bit here):
"I'm in no rush to sell any of the scopes and stuff though, which is why you don't see me listing them, and which is why I'm not very lenient on pricing. I've got a guy from Germany here on a business trip coming this month to pick up the Vixen 90mm Fluorite…. Other than that I don't see anything else leaving anytime soon unless I make enough money for it to be really worth my time. I just went on a round-the-world cruise last year, I've got plenty of money, etc. - there's a reason I don't advertise and few people know about the website. The whole reason I quit was so I'd have more time."
"Eventually, I will slow down, and I'll have time and reason to figure out a plan for all this, but at the moment I'm quite fine with the way things are."
Fred wasn't able to show me most of his inventory of some 100-ish scopes in the attic of the guest house he's currently renting out, due to said tenant being busy, but promises me he'll let me have a look at a later date. Because it's all in boxes, he himself doesn't know exactly what is left.
Fred did show me his basement, though, and I took a few pictures - but none worthy of really showing. It's like Santa's workshop. Hundreds of clock drive motors (Fred tells me they're for the Southern Hemisphere and thus he struggles to get rid of them). Three B&L 6-inchers on a shelf. A minty 2045. ETXes in the box. A bin of probably close to a thousand 20mm plastic Huygenian eyepieces. Piles of adapters, eyepieces, filters still in the boxes. A C8 and 2080 in mint condition (which are for sale, albeit at prices neither are really worth commanding). A custom-machined GEM he bought for display. Tripods. 60mm refractors. A dozen large mounts/scopes still in the original boxes. It was hard to even take everything in.
Do I know what the future holds for Fred Pauli and his inventory? Not really. Fred's usually a rather reserved guy - I don't recommend going and bugging him about anything not listed on his site or eBay that I've mentioned. At some point something will have to be arranged for the future of those scopes. But I trust him to figure that out, and he's said that when he does decide he wants assistance he'll give me a ring.
To finish, here's a photo Fred sent me of himself in 1997 with that 5" Unitron.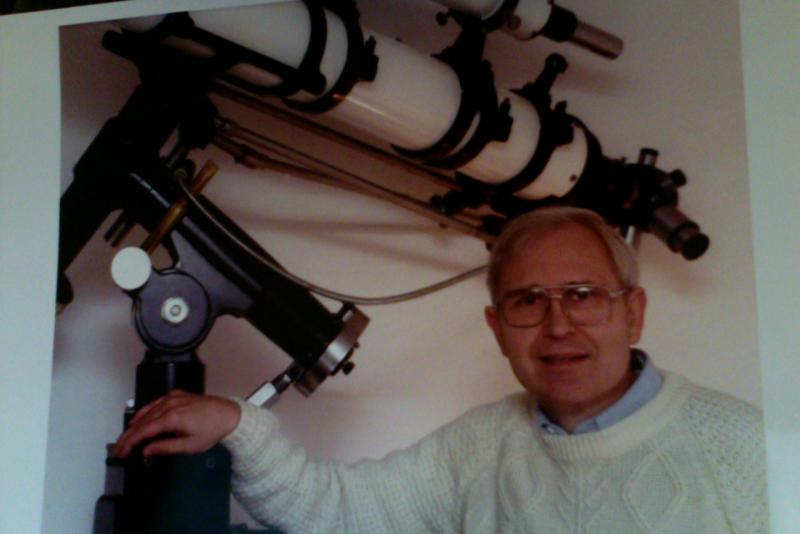 Clear skies!
Edited by Augustus, 12 February 2020 - 01:39 PM.