Hello fellow stargazers,
I am new to this board and I hope I did not oversee any threads with similar content.
Trying to get started with a low budget EAA setup in addition to pure visual astronomy with my CPC 800, I am thinking of putting a small Fraunhofer 80/400 equipped with a camera on top of the CPC.
My goal is mainly to catch a better view of DSO from my location which is fairly lightpoluted due to an airport in the North. I do not want to capture perfect images but learn to see more through the telescope. So I want to use both – visual and EAA – besides each other.
I figured out the following setup:
Achromatic refractor 80/400 (Skywatcher, Omegon, Orion… ) OTA
Altair GPCAM3 224C USB3
SharpCap PRO Software for live stacking
In astronomy.tools it seems to fit quite well, both images of M1 for example are in the same FOV when using my favourite 25 mm 2" eyepiece 70° on the C8. I am aware that I will only be able to reach objects about this size with that equipment which would be fine with me. I am mainly targeted at PN and galaxies (not applicable for M31, sure).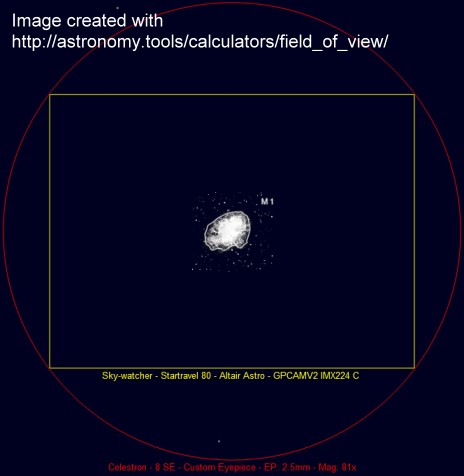 Anything I oversaw or comments on this idea? I am a beginner (approx. 1,5 y of experience in astronomy) and first time thinking about EAA. Any commet would help. Also any source for more information.
CS.Oli
Edited by GazingOli, 20 February 2020 - 06:11 AM.