Here is a first light image with my new Canon EOS Ra. This image still needs work. I have not yet applied flats but Astro Pixel Processor was still quite effective in removing most vignetting and gradients - some still remain but will require a reprocess once I have taken the flats. Transparency was being impacted by a very light layer of passing clouds / moisture.
Still getting to grips with the camera. This was really a trial run and the image came out much better than I expected.
Also goofed up on the mount setup. Used my Skywatcher Az-Gti which can quite easily do 2-3min unguided exposures at this focal length. But ended up limiting sub exposures to 60s as I was not getting good star shapes. Only at the end of the session did I realize that I forgot to lock the RA axis after polar alignment!
The camera is a real joy to use. Superb sensitivity and I really love the 30x zoom feature. It was derided by a lot of users but to me it is one of the most useful tools you could ask for. So easy to nail focus even without a focus mask. I am imaging with a DSLR after almost a decade and I had forgotten just how much fun it is.
Canon EOS Ra, Samyang 135mm @ F2, Skywatcher AZ-GTi, SharpCap (for PA), BackyardEoS and processing completely in Astro Pixel processor.
Lights 70x60s (sensor temp stabilized at 15 deg C for most subs)
Darks 15x60s
From the SDAA dark site SQM ~21.4 but with passing light clouds
The image has been resized and heavily compressed for CN. You can see a slightly larger (although not the full resolution image) version here: https://raniobservat...sures-of-orion/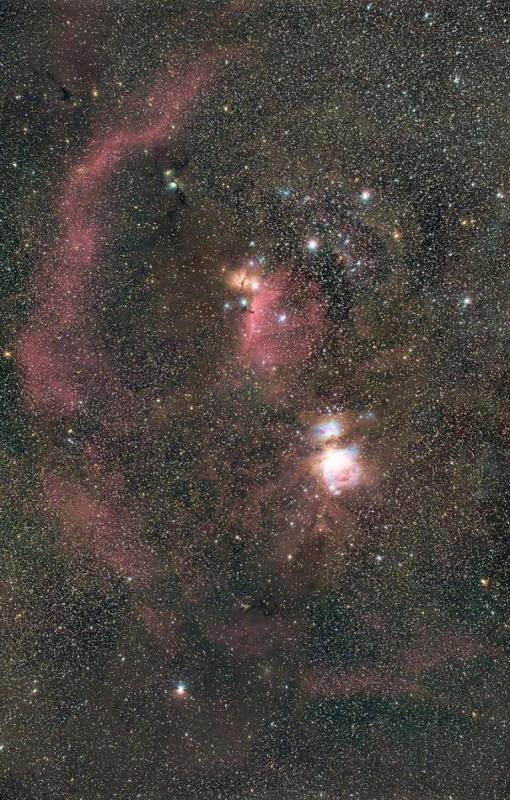 Edited by Astrojedi, 20 February 2020 - 03:39 PM.