Greetings!
Finally An Image in the Midst of a Long, Overcast Winter
At long last I have a new image to post! This is NGC 1961 and its vicinity with several interesting and photographic background galaxies in Camelopardalis. I am working on my AstroBin Description for this image (my first new upload since the AstroBin trouble). It is my usual practice to do quite a bit of research on the targets of my images for both my own interest and education as well as the interest of friends and family who visit the page. Most, if not all, of my research starts with listing what the PixInsight AnnotateImage script can identify and mark. However, this is often incomplete, and I try to find more using the various online databases. Unfortunately, several of the background images in this image elude me, and I'd like to ask for help in finding what they are. Additionally, please explain where you go to find the information so that I can add more resources to my arsenal.
Full FOV Image of NGC 1961 & Vicinity
Here is the full FOV image with minimal cropping. I find NGC 1961 difficult to image and process, although this represents my best try to date. It has an apparent magnitude of 10.9, however that refers to its small core. The outer bands are quite faint. There are two or more arms that extend upward in my image starting at about 9 - 11 o'clock and extending near straight to the upper right. I'm hoping to learn more about what dynamics may have formed this unraveling of the arms. In my image, these arms are very faint, just barely brighter than the background. I think at least double the amount of integration time would make this image better, but I only got a few hours on it over three nights, luckily close the New Moon.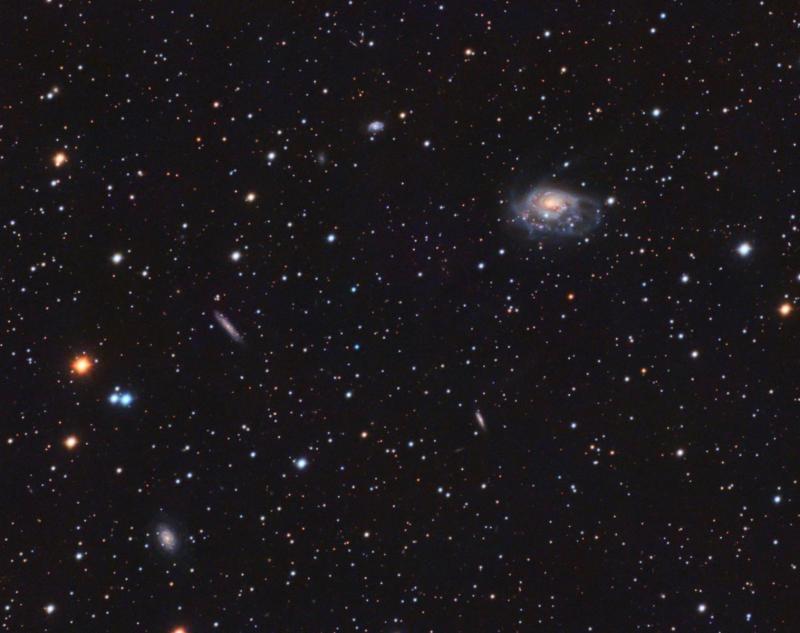 Next I will post a mosaic of some of the more noticeable galaxies in this image.
AstroBin Links (work in progress):
AP 1100 GTO Balance
This image also represents what I call an intermediately successful result from my latest round of hardware troubleshooting. First, I did a very careful balancing of my AP 1100GTO. Having used an AP Mach1GTO for many years, I was used to its stiff axes when trying to balance load in DEC and RA and realizing that I could only get it marginally balanced. Usually that wasn't an issue. With the 1100, I proceeded with the same attitude that I could balance on the stiff axes and it would be good enough.
But the AP1100 has the ability to disengage from the gear motors on both axes. I had been reluctant to release these because I had quickly read some warnings in the AP manuals and decided not to bother with it at all. Well, my last imaging session was awful with huge excursions in guiding, and so I decided to finally balance carefully. First of all, those warnings were simply to make sure that I don't let the scope swing around wildly and bang into the pier (or into my thick but fragile skull). I discovered that I was horribly out of balance in both RA and DEC, and that imbalanced load was causing problems particularly in DEC guiding. That problem went away now that I'm nicely balanced.
FLI ML16200 Fan + Celestron 11" EDGE Primary Mirror Vibration
I have had a long standing issue with the fan in my FLI ML16200 inducing a small but noticeable vibration when using it with my C11. After an inordinately long time I was able to conclude that the fan can induce enough vibration in the primary mirror to cause stars to appear as little ellipses. But for the life of me I can't find where or how the primary is vibrating like that! I have not been able to solve the root cause of this issue, however on this last round of troubleshooting and testing I locked down the primary and then torqued the focus knob CCW until I could feel quit a bit of stiffening. (I had never moved the focus knob after locking the mirror down with the lock knobs.) I then collimated in this configuration, and the result is that the vibration is considerably reduced. Simply, the mirror is now both locked down and torqued back enough to stiffen it up more than I was doing before. I don't know if this is the best solution, but it's what I could come up quickly just before commencing with this last imaging session. I don't consider the issue resolved yet, but I call it progress.
Optical Alignment
Finally, I am also aware of optical misalignment with my C11 that is (as far as I can tell) not related to the vibration or balance issues. This is a persistent problem that is there even when the fan is not running, when I'm not guiding, on short exposures, etc. This is another ongoing issue that I need to address. It is my hope to sort these problems out before spring when I hope for more clear nights.
Conclusion
I hope you enjoy the images, and please visit the AstroBin pages if you are interested. I will have more information in the Description soon, but first I want to gather more information, particularly on those faint background galaxies.
Best Regards,
Ben
Edited by BenKolt, 22 February 2020 - 05:15 PM.