I recently had to replace a shutter cable on my Exploradome. Tensioning the cable is a major PITA, and part of that process is the orientation of the stop nut on the cable. I obviously had more patience five years ago when I originally installed it than I did on the recent repair.
This photo shows the position of the tensioning spring and stop nut when the cable is relaxed in the closed position.
This photo shows the cable when tension is applied to the cable to open the shutter.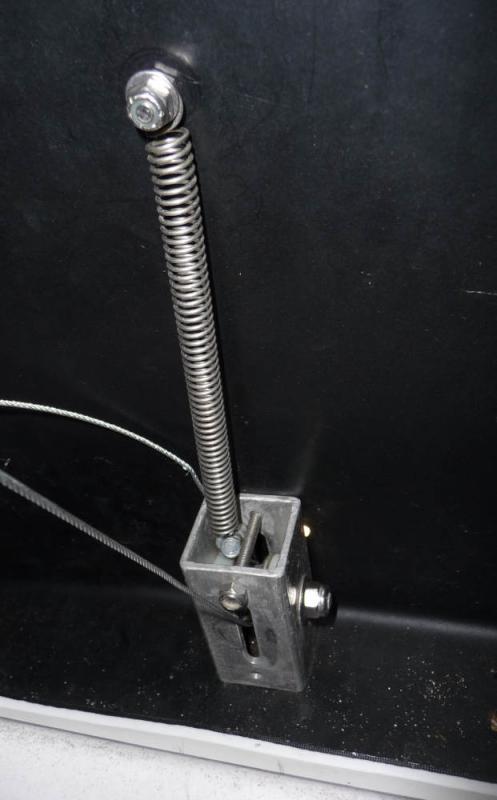 The stop nut gets pulled into the pulley housing and jams against the pulley, at which point the shutter starts to move. That is normal operation.
The problem is that, unless the orientation of the stop nut on the cable is "just so", it can jam behind the screw that mounts the pulley housing and not release the spring tension. When that happens, the cable is four inches too short. The combined force of the closing cable and the weight of the shutter caused the cable to snap.
The good news is that the shutter finished closing under its own weight. The bad news is that it won't open now, until I replace the cable.
I know that no two Exploradomes are the same. The hardware that was shipped to me did not match the several-versions-earlier instructions, so I had to figure out the installation myself. I might have gotten it wrong.
I need to prevent the cable nut from getting jammed under the mounting screw. I thought about mounting the pulley housing so that the slot that currently faces inward points upwards, and then using the slot to stop the nut as tension is applied. I would have to cut some length off the housing to make it fit under the lip of the shutter. On the other hand, the slot kind of looks like it was designed with that in mind; it just didn't fit in that orientation. It would pull on the lip to open the shutter, and I am not sure that that is not a good idea structurally.
Or I could put some sort of cover over the open end of the pulley housing. It would have to be strong enough to support the weight of the shutter.
Or I could look for a much larger cable nut that won't get pulled into the housing.
Does anyone else have this style of cable attachment? Any ideas on how to prevent the cable nut from getting jammed in the housing?
Edited by kathyastro, 23 February 2020 - 04:07 PM.