I have come up with a new way to affix EAA stuff to my scope worth sharing….
Two ABS electronics project boxes (200mm x 75mm x 120mm) are screwed back to back to a 2cm piece of MDF. A central slot in the MDF allows these to slide onto my tripod leg spreader rod. This image shows this contraption under construction and prior to painting the MDF.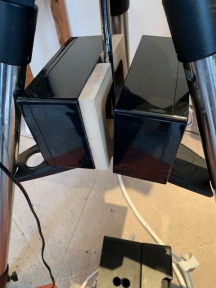 A power cable, USB3 cable and focuser cable run from the front ABS box in a single coiled (white) cable tidy to my OTA where it is affixed by a long Velcro strap around OTA, then along OTA length to Camera/Focuser (hence ultra-neat). By putting the weight of these peripheral devices below the centre of gravity my scope is easier to carry. The whole contraption slides on or off as one compact unit for transport.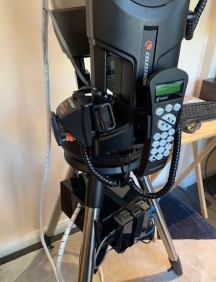 Externally, I have affixed an Intel NUC to one side (using VESA plate) and MKIT20 auto-focuser controller to another (Velcro straps). Inside the ABS boxes are hidden my AC/DC power supplies plus all connecting cables between NUC and MKIT20 autofocuser controller. Once again, this route offers ultra-neat cable management. Then, just a single cable to the floor to my mains supply as my activity is at home and I have a suitable garden power source. I think this DIY route looks as good and tidy as many proprietory devices (Eagle 3 etc).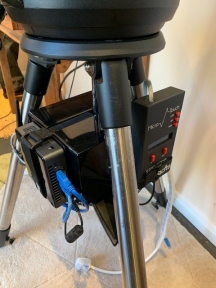 BTW, the item strapped to my mount carry arm is my SkySync GPS unit into which I plug my SkyPortal device. My HC is plugged into AUX1 and is affixed to mount arm. So only the white coiled spiral cable tidy extends below the point of rotation. The cables within are sufficiently long for my OTA to fully rotate 360 degrees twice without snagging (so <cord wrap> isn't a problem, albeit it is set). The weight of the cable tidy means these cables always hang away from anything that they could snag upon (example, a wedge, not that I now use one).
The NUC runs Windows 10 Pro Remote Desktop with RemoteFX compression disabled. Sequence Generator Pro software (£99) controls camera and auto-focuser (could also control other ASCOM devices such as auto-guider). I use Celestron CPWI for remote scope control. Indoors, I use another PC as a dumb terminal to control scope side NUC over RDP. This all achieved wirelessly over a 5Ghz WAN.
The two ABS boxes were circa £10 each from Amazon. These are one of the best DIY finds I have made!
Edited by Noah4x4, 23 February 2020 - 04:51 PM.