In May of 2019, someone was selling their old 16" Meade Starfinder for a very reasonable price (pic 1). I didn't take a look at the mirror, or even offer more than a passing glance, because I was worried about spending money that I shouldn't, and I knew there was no way I could fit that thing anywhere convenient. After much internal back-and-forth, and thinking about the possibility of a truss tube design, I ended up buying it a few months later when it hadn't sold yet. Here are the chronicles of my build -- things might seem a bit out of order in places, because I kind of jumped around during the process.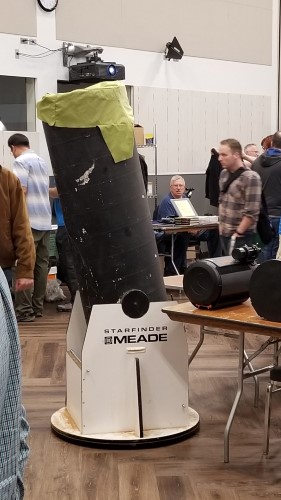 I had to shrink all of these pictures considerably so I could share more than one or two per post. The full-sized versions are on Imgur here: https://imgur.com/a/...nTy/layout/grid
My initial, and overly-optimistic idea, was: cut off the top portion of the OTA, build a mirror box around the existing mirror cell, repurpose the old bearings into a new rocker box, and connect both ends with some trusses. Discussions with folks in my club and other ATM-ers thankfully steered me towards Kreige and Berry's book on the matter, and I decided to start from scratch. This decision was cemented when I took the scope apart and found the flotation cell and tailgate it came with to be woefully inadequate. The floating cell was nine points, with extremely thin corner pads, and the "tailgate" was just a thick piece of particle board with holes drilled for the flotation cell and collimation bolts.
I skipped K&B's measurements for the floating cell and tailgate, and instead used PLOP for the cell and designed the tailgate to accomidate the collimation bolts. PLOP told me I'd be best with an 18-point cell. I used 1/4" aluminum (pic 2) because between that and 1/8" steel, the aluminum would get to my house in time to use the metal-cutting bandsaw at my club's workshop.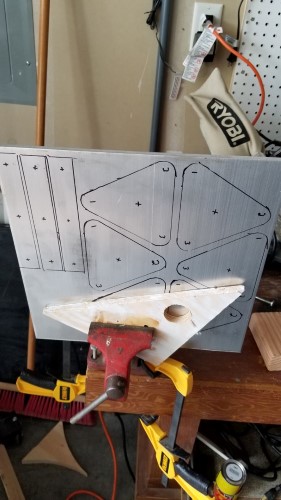 As it turned out, the bandsaw didn't have a metal-cutting blade installed, so my wife's tool collection got the new jigsaw she'd always wanted, and I spent a few days in the garage.
Pic 3: floating cell pieces cut out and pilot holes drilled, lined up on the old particle board to make sure things looked symmetric.
Pics 4 and 5: assembled floating cell components, using K&B's guidance on fasteners. The springs are the old collimation springs from the original design. I opted to reuse them instead of tapping threaded holes in the tailgate.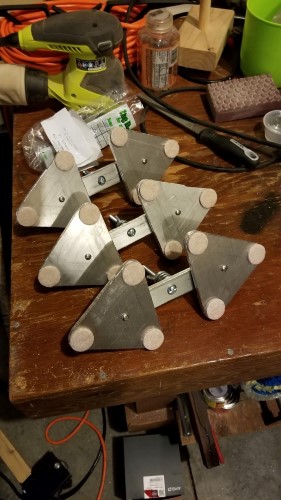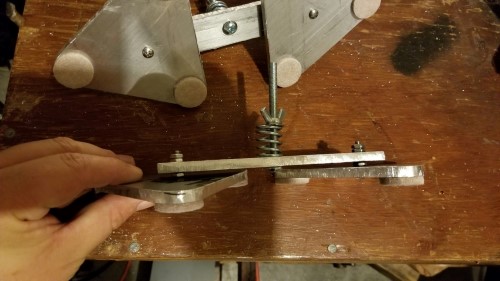 Edited by Other_Mike, 25 February 2020 - 12:38 AM.