I recently volunteered to help find new homes for the volumes in my club's astronomy library. The books have all been donated by other club members over the years, but nobody has ever checked any of them out. A most gracious reward for my efforts was that I got first crack at them. Two of the items I picked up were the 1972 and 1974 reprints of the Atlas Borealis and Atlas Eclipticalis by Antonin Becvar.
These books are huge, but are significantly more manageable than the originals as the charts in the later editions were folded in half.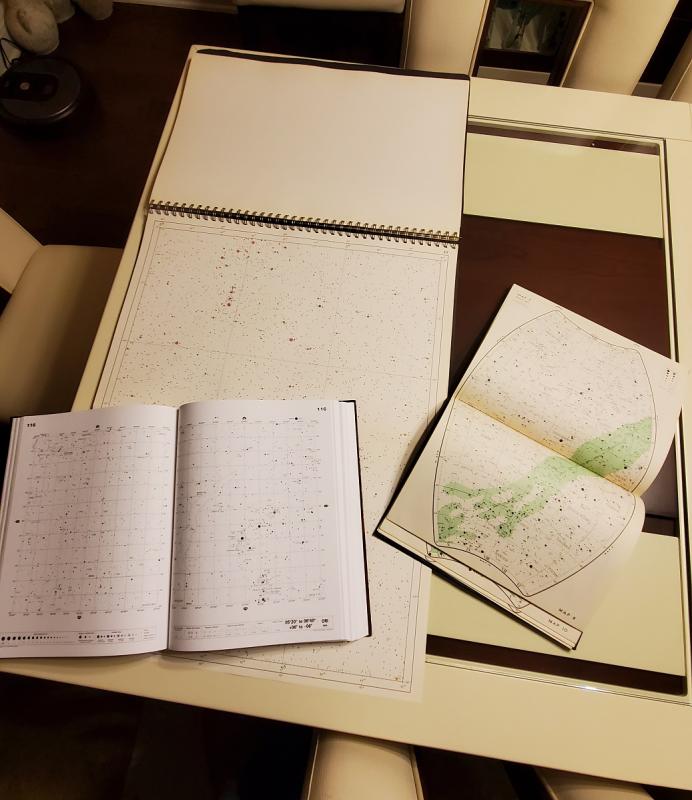 For scale, the atlas on the left is Uranometria 2000 Deep Sky Atlas: All Sky Edition and on the right is Norton's Star Atlas: Sixteenth Edition. The actual scale is about the same as the Uranometria, but the charts are on fewer sheets. These charts came out after Becvar's Atlas of the Heavens, but they don't show any deep sky objects or very many labels whatsoever. What they do show is stars that had known positions down to at least 9.5 magnitude and the stars are all color coded by spectral class.
These two volumes are only 2/3 of the full atlas. I don't have the third Atlas Australis covering the southern sky from -30° to the pole and so don't have charts that cover the Scorpius/Sagittarius regions and farther south.
I don't have much more information on this atlas but wanted to share some pictures of the Orion region.