Last time I tried to photograph a comet I failed miserably. You guys suggested that for 10th magnitude comets you really should think about an EQ mount. I'm a student and I don't quite have the funds for that so I built one myself. My parents already gave me a Canon 800D for this hobby(!) so I don't want to ask for more gear. In the end I ended up spending more on the tools I needed to make the mount than I would have spent just buying one. But I can solder now so I guess there's a plus.
Yesterday it tested the mount and I still can barely see the comet. I took150 x 30-second exposures with no star trailing. Settings are 1.8 for the aperture and an ISO of 200. I shot until the battery died after charging it fully. Here's my picture: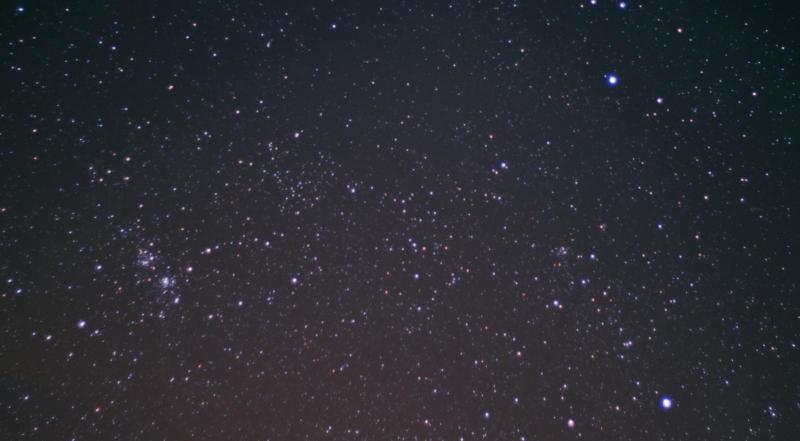 The comet is somewhere between the top bright star and the cluster on the left as an extremely faint gray blob. As you can see the stars aren't quite in focus, I was zooming in on the stars on the Canon 800D flip screen and they looked OK there.

I wanted to know what should be the next step to move forward and improve my pictures. Do I need more exposure time or am I still limited by my gear in some way? All footage is shot in my backyard in Belgium near street lights. I can't take my setup into the nature reserve because the stepper motor of my DIY barn door tracker needs a 12V power source. Any ideas?
To end this post I'm sharing a link to my tiff file that came straight out of DSS without changing it. Maybe I'm limited by my non-existent processing skills. If one of you guys wanted to give it a shot you're more then welcome:
https://drive.google...SfRiKzlHj7_7mD1
Thank you all, I hope to be able to take pictures like the ones you guys post one day.