Tom,
For your mirror support pads, I would not use the nylon acorn nuts unless the back has been ground flat, because a point support like that would tend to settle between the bumps that are on the back of standard unground pyrex back of most Coulter mirrors. Better to have a wider surface that the bumps can sit on...
Trick is how to locate the flat support points on the triangles in the exact PLOP-calc'd locations. . .
For my new cells on my BT project, I am using these little plastic drawer-glide pads. Not sure what the plastic is, but I can say that it is quite hard and extremely slick against the bumpy bac of my Coulter primaries. The cool thing is that they have a small pin/brad out the back of the pad, so you can exactly locate them on your triangles by drilling small holes in the triangle corners at your PLOP locations.
I have a bunch of these pads, would be happy to send a set down to you. If you want to try them, drop me a PM.
CS
Bob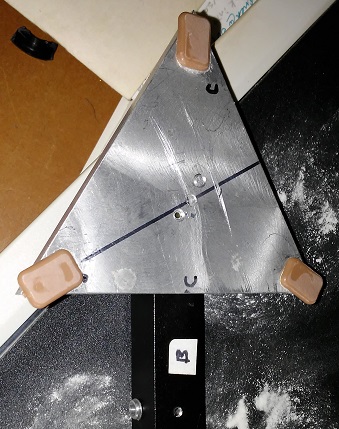 Edited by Bob4BVM, 11 March 2020 - 03:30 PM.