This is probably the last descent night for DSO until after the full moon. Tonight the 1st quarter moon was low in the west as NGC 2818 passed through the meridian at about 38 degrees above the horizon. I set up an hour early so my scope could cool. It's an easy star hop to NGC 2818, I found it right away at 67x. Though it's pretty bright, it did not stand out all that well. Not the best conditions, but a clear night and the Orion Ultrablock made it pop. So that was cool.
Okay, so at 200x (1mm exit pupil with a UHC filter), and the thing was readily visible. Always visible, actually. So, I settled in for a long observation. The first thing to notice it is definitely elongated pretty much east to west. After a while, I could begin to make out it's bi polar structure. The rift running through it was pretty obvious and wide. What was also obvious is the southern lobe was slightly larger and brighter than the more stubby northern lobe. The lobes were surrounded by a fading glow with a darker rift running between them.
What's interesting is, there were some very distinct, but hard to place stellerings in the nebula. I think about 2 or 3 in the southern half, and another 1 or maybe 2 in the northern half. I think they are just fleeting glimpses of the brighter part of the nebula near the center. Very difficult to place accurately and count them, I may have counted one or two of them more than once because I almost never saw more than one at a time. They just appear and disappear just as fast. I know I saw them many times, though, so I'm confident they are there. I only added one bright speck in each lobe, just not sure how many there were. I hope they show well on your monitor. (Edit: I could not see them when I posted the pic, so I brightened them a tiny bit).
Now, I am not much of a open cluster sketcher, so I placed only the prominent field stars I paid attention to. I took out the Ultrablock for a while and did a sketch only of the brighter members. Those I could see, pretty much, with the filter anyway, but I wanted to get a feel for the rest of the cluster. Those other faint cluster stars are tossed in at random trying giving a feel for the cluster. NGC 2818 is on the western edge of a fairly loose cluster.
Okay, so after about an hour of my dog guarding me and barking occasionally, and after soaking my black hood in my coffee cup, I pretty much figured this was all I was going to see. But, it was enough. It's an interesting object. I might hit it again after full moon when the sky is darker. The sky wasn't terribly bright in the south, so it was okay. But, it can be a little better. This is a bright nebula and I am sure it will show a little better. Not bad tonight, though.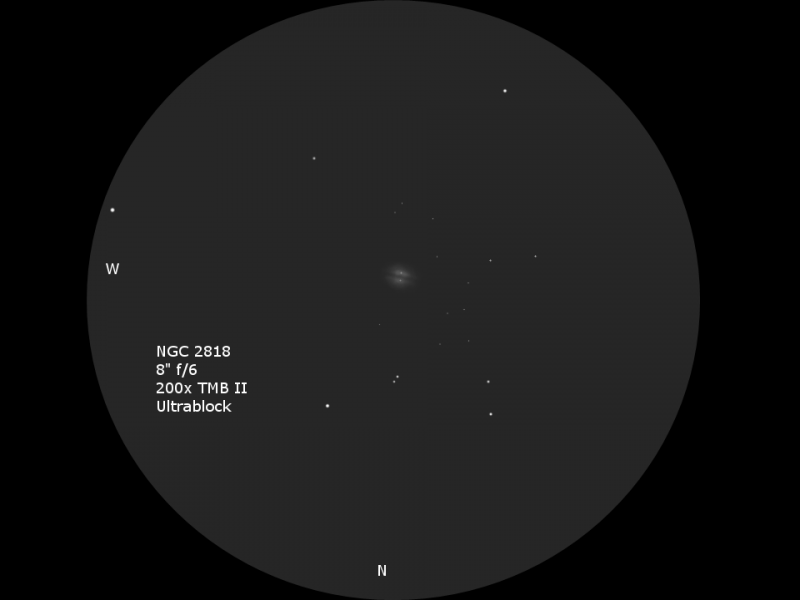 Edited by Asbytec, 02 March 2020 - 11:10 AM.