On the evening of day two of our strict home quarantine, I was able to observe alone last night in the field behind my place. Not a creature was stirring, except my faithful companion Loki. He stays out with me and warns of anyone approaching while I am under the hood. A siren was heard in the distance approaching along our rural highway en route to the small local hospital in the small town just north of us. With the virus in the area, all I could think of is another case being identified. It was very eerie, I almost packed it in. But, the ambulance passed and it was quiet, again.
I realized it was not too late in the season to catch NGC 3132 as it rose toward the meridian at about 35 degrees altitude. Star hopping to it was not difficult, and it was easily visible at low magnification. I wasted no time at low power and immediately shot up to 200x without the Orion Ultrablock. It's clear, the object is pretty large and bright. The central star is easy, and a few field stars were noted. But, 200x just did not seem like enough magnification. So, I reached for my ES 5x focal extender and APM 18mm UFF offering 300x, and knowing we're not supposed to do this, I hit it with the Ultrablock. NGC 3132 responded quite nicely
The nebula itself appears pretty much uniformly bright, slightly oval, no hint of annular form, and with a prominent central star. It did appear to have a rather well defined edge. Not long into the observation, I could not help but notice a prominent dark arc to the south west. Another less prominent dark arc was noted to the north east. I know from images the Eight Burst has a prominent dark ansae, but it was not easily seen. I figured it must have been where the prominent dark arc was seen, but I was wrong. It's actually just barely noticeable, despite the high contrast images, on the western ansae. It is not easy to see, at all. Also not easy to see, were hints of some brighter arcs just outside the darker ones offering a very faint and difficult hint of it's annular appearance. I did get the impression the central star was surrounded by a dark central region, but I could not see it clearly. Again, despite the prominent and difficult detail, the image appeared almost uniformly bright.
So, I stayed on it for about 45 minutes, briefly switching to 240x with the Ultrablock to see if a slightly brighter image would produce more results. Not really, the best view of the still bright image were at 300x and an amazingly small 0.7mm exit pupil with an Ultrablock filter. The field stop was still visible, but the sky was pretty dark, and the nebula punched through the filter. The normal sky glow was noticeably reduced on the horizon to the north and south west as both towns are on lock down. I decided to make good use of the evening until the moon rose around 0230, but clouds moving in from the north covered my next target for the evening Messier 106. So, I decided to call it a night and get some rest. Maybe hit Messier 106 tonight, it looks promising outside.
Thanks for looking. I forgot to add the cardinal directions, west is lower left. North is lower right. I only noted 4 prominent field stars for reference.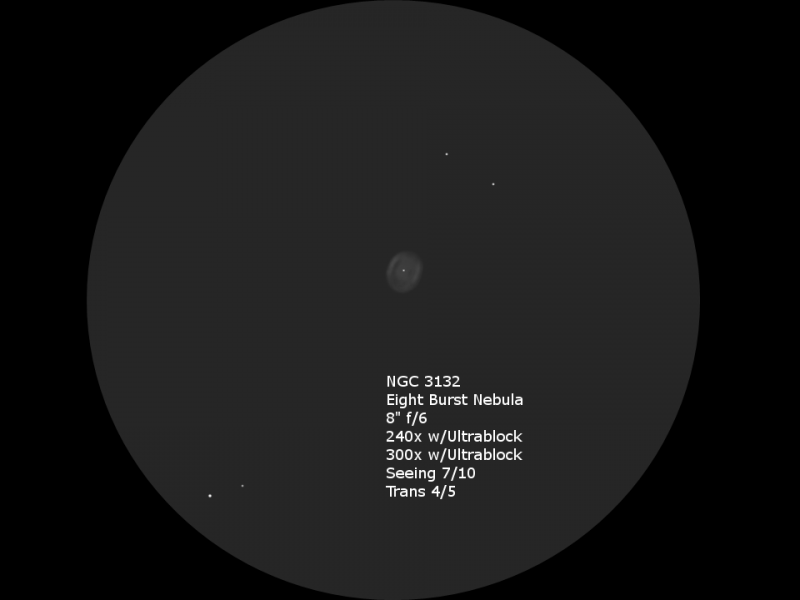 Edit: Doing some research, I found a few sketches that have similar characteristics. Cloudbuster's sketch through his 10" is at about half magnification, but the prominent dark arc to the SW is easily visible, as it is Bertrand's sketch through an 11" aperture. I like the way Bertrand captured the hooking dark arc. That is close to the impression I had, but was more readily seeing the prominent dark arc in Martijn's sketch. In this link, Iiro's sketches show the benefit of high magnification. He was at 478x in his 10 inch, no filter though.
Edit: Here's the best image I could find. Still too well defined vs visual.
Edited by Asbytec, 19 March 2020 - 05:54 AM.