Been sometime since I got a good sky morning-time. Getting up with Mars in mind, and after a fair view of that.......still very low I resorted to the deep red #29 filter for a steadier view. But eventually drifted to Jupiter: after eyeing the pastels still on the drawing board from use with Venus on the 16th. Then deciding to do Jupiter after the style of some recent pastels of the former planet.
I was up at 04:25 a.m. and soon was the first glow of dawn along the s'east......that's observing life here at 54.7º north...........increasingly stronger all-night twilight by mid-May tailing off early August.
It was close to sunrise (06:08 a.m.) and contrasts getting increasingly washed out when I decided on the Jupiter sketch; but the planet is entering, at 67º elongation, that part of the sky where sunlight is polarized (maximally at 90º elong.). The Celestron polarizer has a somewhat bluish cast; thus some affecting of Jovian hues. Even so am persuaded that those deep ochres in the EZ(N) are fairly muted now.
Seems some while yet for Saturn which just a few weeks back I was getting it very low in darker dawn light, but now will be lost for some while in the stronger twilight onset.
Dave.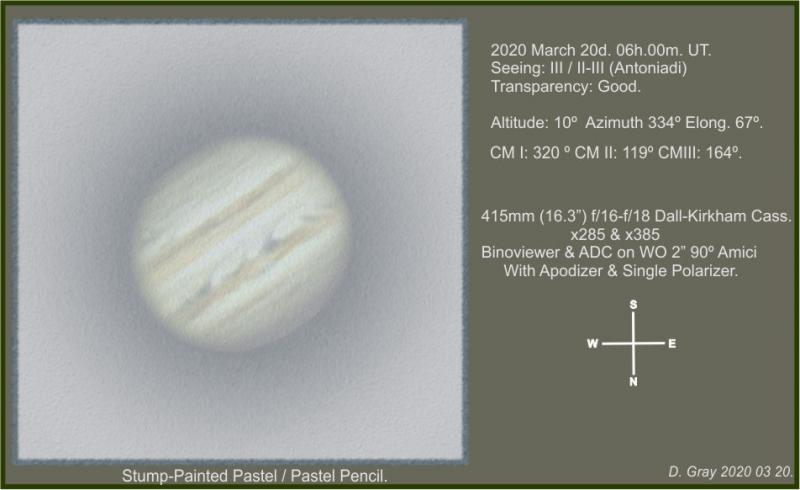 Edited by David Gray, 20 March 2020 - 12:15 PM.